Just because most of the leaves have fallen and fall color has come and gone for another year doesn't mean you can't have color for the winter season! There are various options for bringing color to your landscape and outdoor space not just for Christmas, but for the months after it as well! Shop local this season and get some great live winter decor items!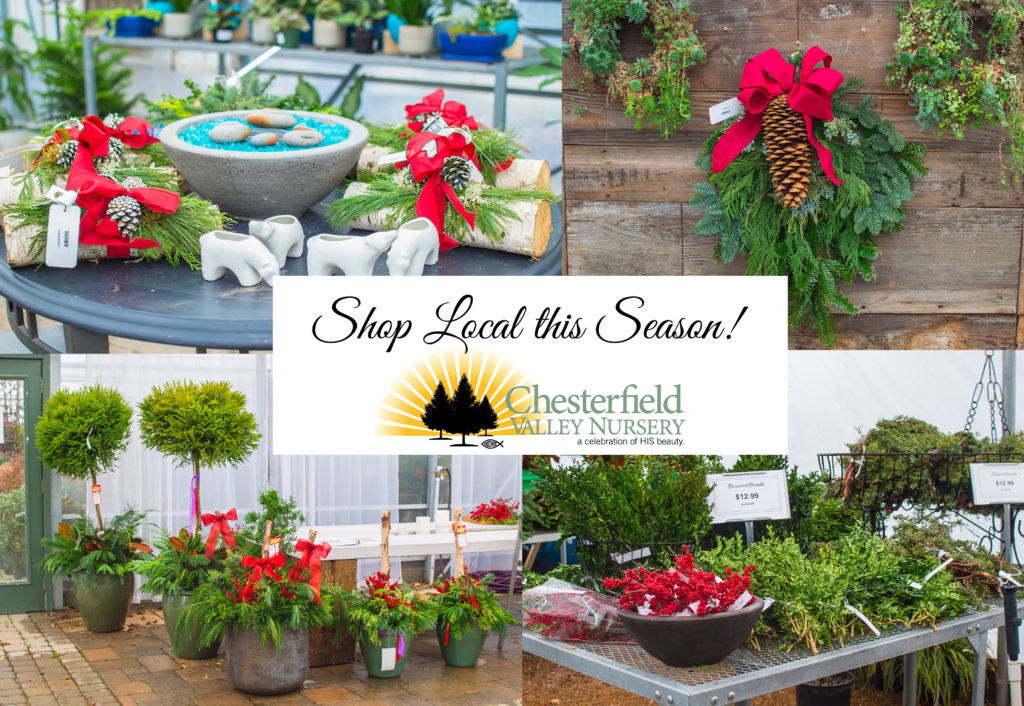 Winter Planters
One of the first ways to get seasonal winter color around the outside of your home is bringing some life to your pots and planters with evergreen cuttings and other small ornamental evergreens! Winter cuttings, as long as they are put in your planters with potting soil and some moisture every now and then, should last into January if you install them at the end of November. This of course depends on the conditions the planter is in. Very exposed areas (i.e. full sun, open to significant wind) are often not ideas for your planter unless you are just using items like birch bundles or artificial cuttings. These live decorations bring a variety of textures and winter color that differs significantly than your spring, summer, and fall seasonal plantings.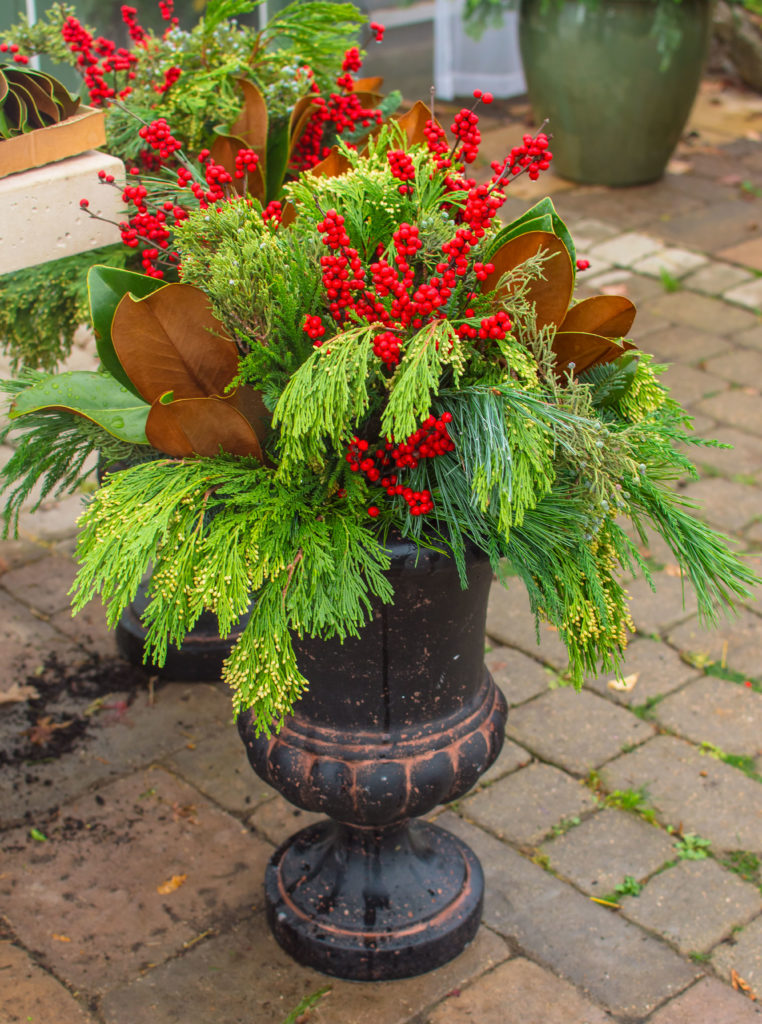 Planter Styles
During our Winter Planter Class this November, our Interim Retail Manager, Justin, talked about how to best arrange your pots. One important thing he said to remember is that nature is not perfect, so don't put pressure on yourself for your arrangement to be absolutely perfect! Everyone also has a different style. Some people appreciate more formal designs, other more whimsical designs. Whatever your style is, it's pretty simple to arrange your planter!
Getting Started
Ready to get started? First thing you're going to need is potting soil. This will help keep some weight in your pot as some planter arrangement may be top heavy. The potting soil will also help maintain moisture content which will keep your cuttings looking fresh longer. With top heavy, large planters, it may also be a good idea to put some pebbles or rock as the very bottom layer of your composition. This will provide some weight while also not interfering with drainage.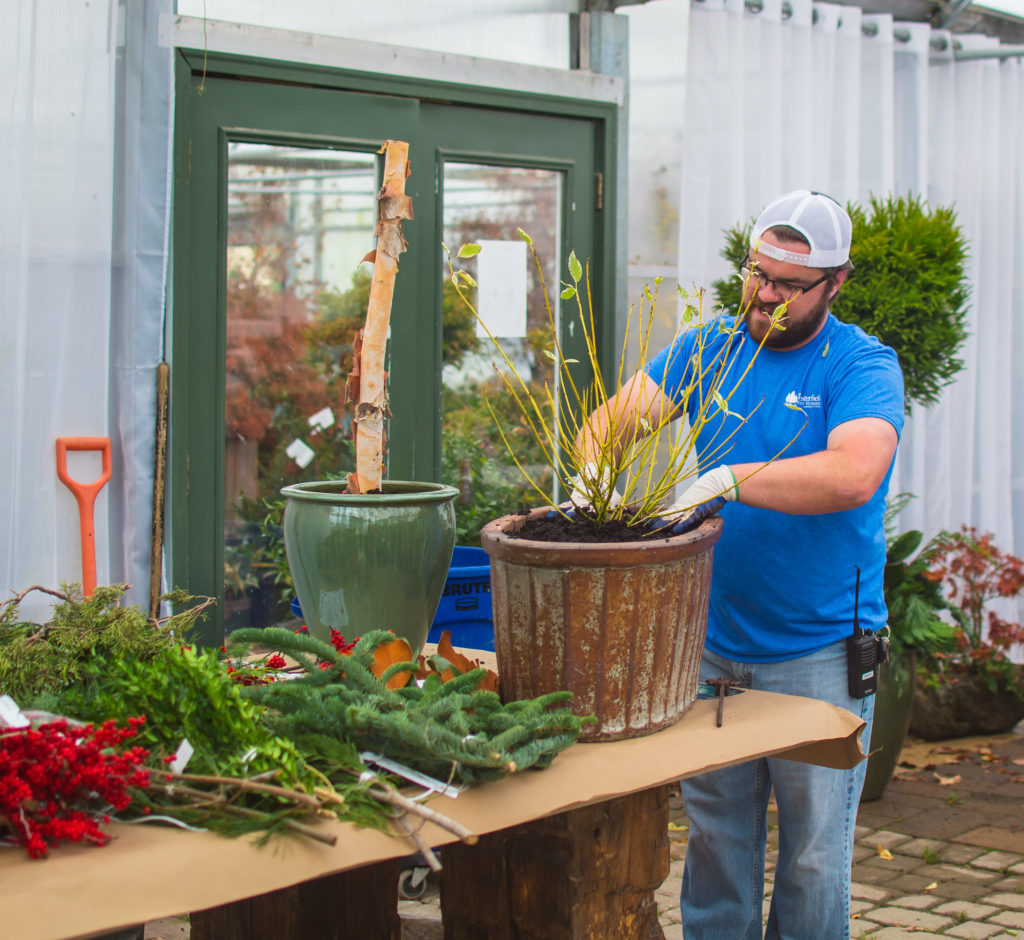 Centerpieces
Some planter arrangements, like the one above, start with a "centerpiece". The one in this case is a Creme de Mint Yellow Twig Dogwood shrub. Another color option with this plant includes Ivory Halo Red Twig Dogwoods, which can also be harvested for cuttings to use in winter planters. Other centerpieces can include ornamental evergreens like Dwarf Alberta Spruces, Ice Breaker Korean Firs, and other dwarf spruces, chamaecyparis, or pines. Here's a list of some of the planter sized evergreens that would be great in a winter planter!
Bonsai Pines
Bess Chamaecyparis
Mugo Jakobsen Pine or Mugo Pine
Omorika Nana Spruce (small container size)
Sea Urchin Pine
Chirimen Chamaecyparis
Castle Spire Holly (for large containers)
Found Objects & Alternative Ideas
Other centerpieces can also include more whimsical aspects! Have a plant that didn't make it this fall like the below Chamaecyparis in one of our nursery pots? Remove the foliage and spray paint with your favorite seasonal color! Want to prolong the "life" of your fall mums? You can do the same thing like the pictured planter below, spray painted with silver, glittery spray paint. Things like this can also be used with found objects as well. Can't find Red Twig Dogwood cuttings?Grab some sticks from your yard and spray paint them red!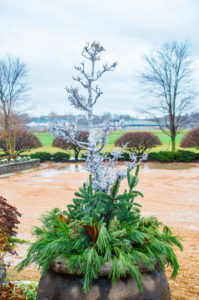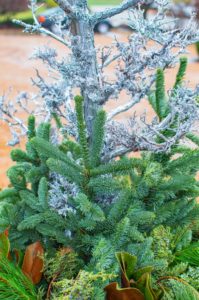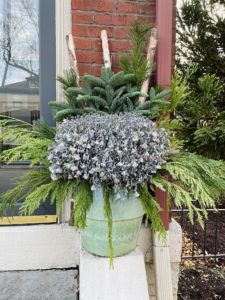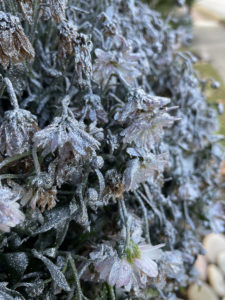 Tall Centerpieces on "Standards"
Other types of centerpieces include plants that are one what we call a "standard". These are plants that have been trained upwards to have a bare trunk for the first foot or more and then the foliage farther up. These are going to be your more top heavy arrangements like we talked about before. Plants on a standard will give your arrangements the height you may need. It can also give your winter planter more dimension. Pictured below is one of our arrangements featuring a Little Diamond Cryptomeria on a standard.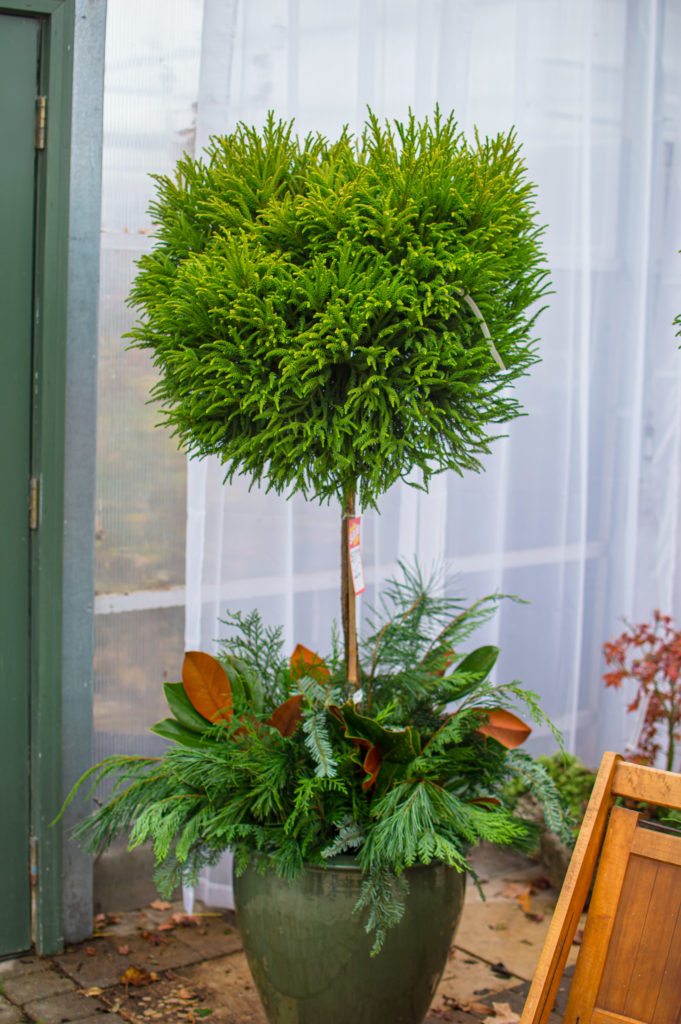 Scale of Your Planters
One of the things Justin talked about in his class was being aware of scale. If you have a two-story, pillared entryway, a pot that is only 3 feet tall is going to be dwarfed and off balance. When considering the size of both your arrangement and your planter, make sure it is not going to look too big or too small in the space. Some areas may be very tall yet narrow, like entryways. This is where taller yet skinnier planters are going to be the best option or implementing a taller centerpiece plant to give your composition the height that it needs.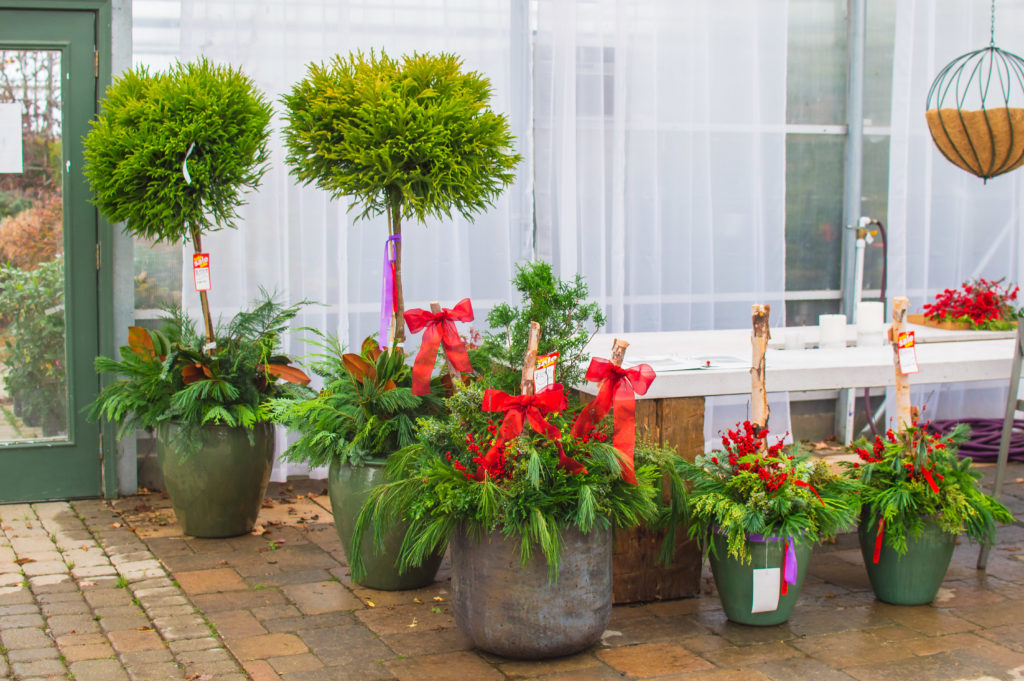 Cuttings
The most popular things to put in winter pots are evergreen cuttings, birch branches, and winterberry branches. These bring different materials, textures, and interest to your planters. Birch branches are another option for giving an arrangement some height as well as a lighter pop of color to contrast the greens. They also give your planter more variety in terms of materials used. These stay looking great all winter long!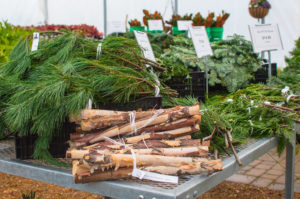 Berry Branches
Winterberry branches, which can be used for both planters and wreaths, are an excellent holiday color touch to planters. These can be removed after Christmas to make your planter more winter-themed than holiday-themed. One thing to consider when purchasing berry branches is choosing between real branches or artificial ones. Most of the artificial berries are foam based and will eventually pop in cold temperatures, exposing the foam. We recommend using those branches for indoor arrangements only.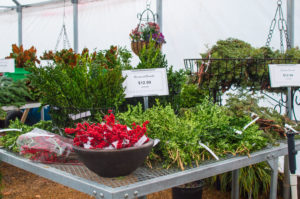 Winter Greens
We have a variety of evergreen cuttings in our Garden Center as well! Our individual bundles include Boxwood, Incense Cedar, Magnolia, Juniper, Noble Fir, Princess Pine, Silver Fir, White Pine, and Cryptomeria. We also have a selection of Mixed Bundles as well with a little bit from a few of the varieties above. When putting cuttings into your arrangement, for planters especially, you will need to cut some of the stems off the main branch to make it easier to stick the cutting into the soil. We recommend using pruners for this and wearing some gardening gloves as some evergreen cuttings can either have a little sap and/or have semi-sharp foliage.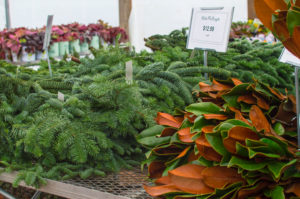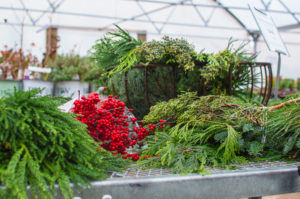 Wreaths, Swags, & Other Arrangements
Winter cuttings can be used in a number of ways other than planters! You can use your favorite varieties of cuttings or mixed bundles to make a custom, live wreaths, swags, runners, and table arrangements
Wreaths
Live wreaths are a great addition to your home. They can be utilized on front and back doors to display your decor to both your neighbors and for your own enjoyment! To get started, go to your local craft store for your preferred size wreath metal form for your home and some green floral wire. The wire will be used to attach your evergreen cuttings and other decorative items. Other objects such as smaller twigs/branches, winter berry cuttings, pine cones, and accessories like artificial flowers found at craft stores can be incorporated in. These little additions will make your wreath custom to your home and reflect your style!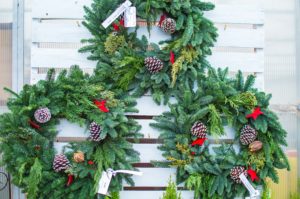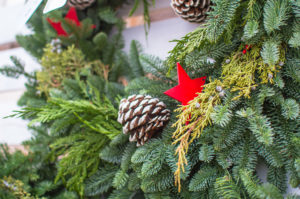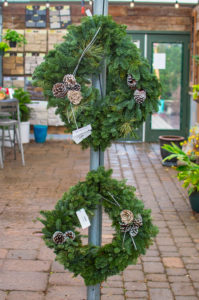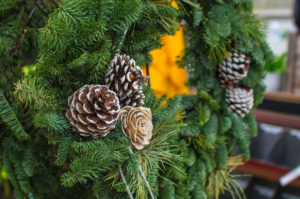 Swags
Swags are one of the easiest custom pieces of live winter decor to make yourself! For these you will need some green floral wire or twine to secure the top portion of the swag. This will also help when attaching other items such as large pine cones to the arrangement. Floral wire can also be used to add an additional loop for hanging it up.When putting your swag together, it is best to start from the back and work your way forward. For a traditional one-sided swag, your first layer (or the bottom/backside) should be your widest and longest piece. From there, work your way in, decreasing the length and width of your cutting piece. You can go with a more simplistic or whimsical look with having just cuttings with a bow, or you can add more flare with accessories like pine cones or other decorative pieces.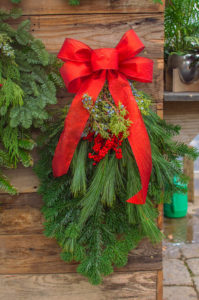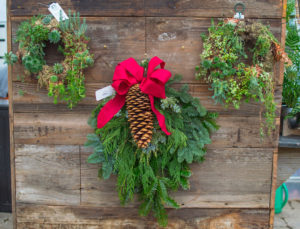 Other Arrangements
Evergreen cuttings can be used in table arrangements or add-ins to planters to spruce up your indoor holiday or winter decor as well! Keep in mind that your greens will dry out faster inside due to the warmer temperatures. Misting your arrangement, if possible, will help your cuttings last longer. Evergreen cuttings and other items such as shorter birch branches can be used as table displays.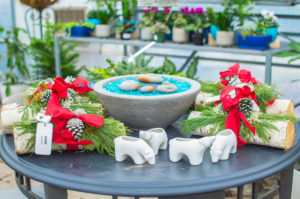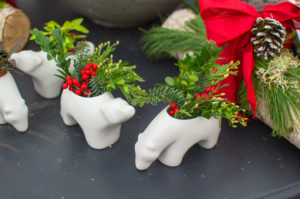 Want Some Help with Your Live Decor?
Whatever direction you may want to go, our Garden Center will be able to help you pick out the best live plants and cuttings for your pots! They can give you advice if you want to make this a DIY project, or you can drop off your planters for us to arrange in house!
If you don't have time to make your own winter arrangements or if you like some of our pictured pre-made decor pieces, there are many options available in our Garden Center!
For planters that we put together for you, sizes will be limited. If the planter is too large for one person to move by themselves when filled, we may not be able to arrange here at the nursery without setting up a delivery for the completed pot. We recommend calling the Garden Center or emailing them at retail@chesterfieldvalleynursery.com to talk to them about your arrangement.
If you have large planters that you cannot drop off, our Property Maintenance department can give you a bid for arranging onsite at your residence!
Check out more ideas for your outdoor space on our Facebook, Instagram and Pinterest!