Fall is in full swing! And those unforgettable fall colors we all know and love are starting to transform our plants! Landscaping and gardening is not only about what your yard looks like in the spring and summer. It's also about what those plants are going to look like in the fall! You can decide to have a permanent fall color staple in your yard such as a Japanese maple, a Ginkgo, or other deciduous tree or shrub. However, you can also opt for annual color that you can mix up every season of every year. Check out what our staff recommendations and favorites are!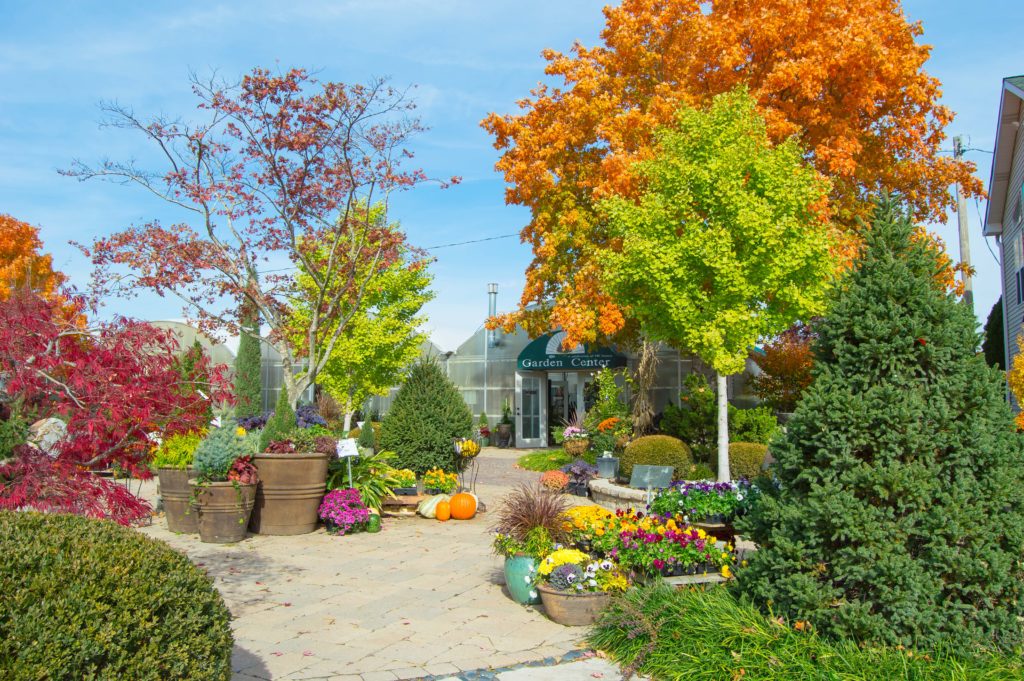 Our Staff Favorites
(Also check out our limited time offer Fall Color Combo Deals* at the end of the blog! -*while supplies last)
Jim Graeler, designer and general manager says, "Mine is not to hard.  Love going to Oregon in the fall to see all the amazing colors on the Japanese Maples.  The green leaf varieties are the best for fall color with their array of reds, oranges and yellows . The witch hazel is also a favorite. It starts out with an orange/ reddish rim outbound the outside of the leaf.  Then eventually works its way in deep on the leaf.  (Check out the Wisley Supreme Witch Hazel) Can't leave out the ginkgo.  Don't know of a tree that has a better golden color. " **This golden wonder can be seen in the header picture!
"Finally there is the sugar maple (Pictured below). The one outside my office is amazing with its orangey red color.  I look forward to seeing it every year as I walk down the office in the fall. There it is showing of in all its splendor."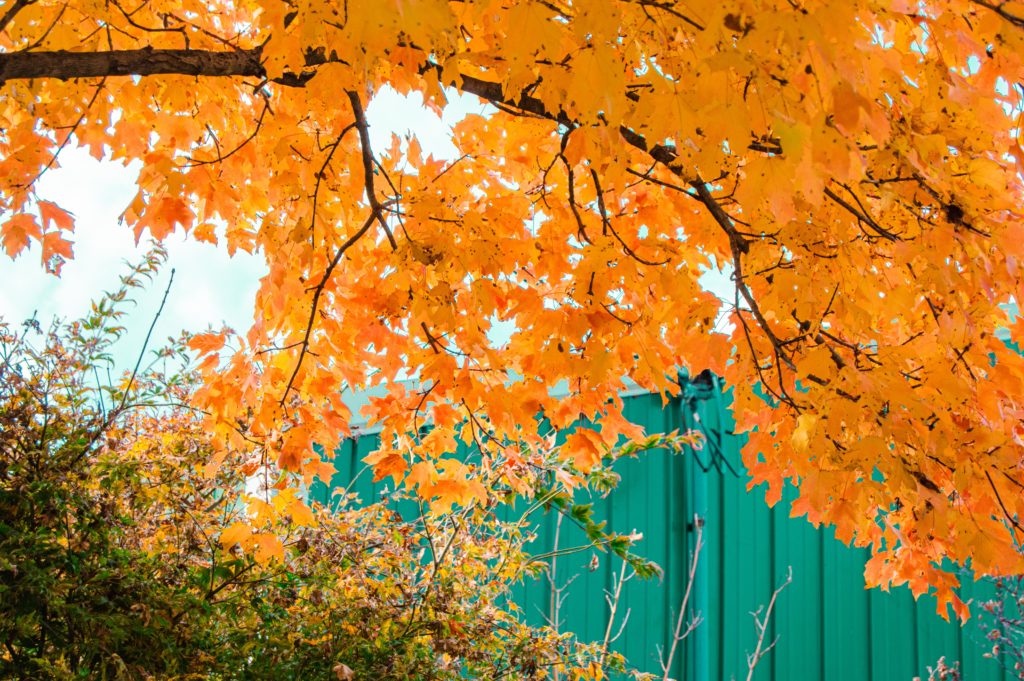 Bob's Favorites
Some of my fall favorites include the Autumn Gold Gingko (check out photos here!) for its beautiful shimmering yellow color, especially when it is up against a lush evergreen backdrop.
I also like the Henry's Garnet Itea for its deep reds that generally last longer than most others. I like it better than a burning bush.
Fall
flowers would be orange, yellow, bronze and red mums and purple asters.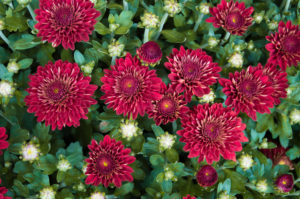 Maddison's Faves
Maddison Harmon, our retail manager for our Garden Center has a long list of her favorites! After all, sometimes there's just too many beautiful plants to choose from:
She says for some great annual fall color combinations to mix the following
Jade Princess millet
Denver Daisy rudbeckia (pictured below)
Purple kale (pictured below)
Matrix Red Blotch pansies or Cinnamon Petchoa.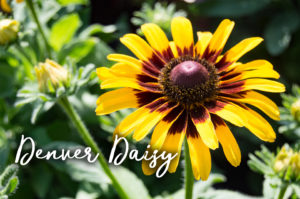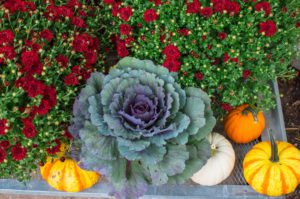 "This provides all the classic fall colors with ample texture and flower variation," says Maddison.
Her favorite fall perennials include:
Ceratostigma plumbaginoides

"Beautiful red/orange fall foliage with long lasting true blue flowers"

Heliopsis 'Bleeding Hearts'

"Striking purple foliage with orange and red flowers lasting into mid-fall"
Maddison's favorite fall color shrubs are:
Oakleaf Hydrangea 'Ruby Slippers' (pictured below)

"Long panicles of red flowers throughout summer followed by deep mahogany fall foliage"

Callicarpa 'Pearl Glam'

"Great weeping habit when mature with purple foliage and clusters of purple berries in the fall"

Ninebark 'Ginger Wine'

Maple-like leaf shape with deep burgundy color from spring-fall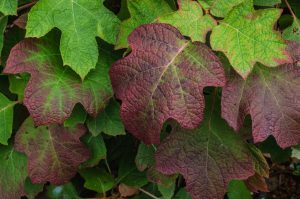 And finally her favorite autumn colored trees:
Acer Rubrum 'Brandywine'

"Good, medium growth rate shade tree with deep red fall color"

Kousa Dogwood 'Summer Stars'

"Star-shaped white flowers in early summer and vibrant red-orange fall foliage"
Justin's Faves
Justin, who works out in our Garden Center and helps with our annual color displays lists his top three for perennials, annuals, shrubs, trees, and grasses!
Perennials:

Amsonia hubrichtii – Yellow fall color on foliage
Solidago drummondii – Native, Late blooming, Fragrant, pollinator friendly!
Aster oblongifolius – Native, late blooming, long lasting blooms, pollinator friendly!

Annuals:

Cabbage 'Peacock' – Fun texture!
Millet 'Jade Princess' – Great color and texture.
Pansy 'Matrix Series' – Love the solid, bold colors. (pictured below)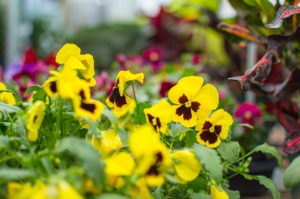 Shrubs:

Rhus aromatica 'Gro Low' – deer resistant, shade & sun tolerant, cultivated native, beautiful fall color and a low growing shrub.
Lindera benzoin – deer resistant, bright yellow fall color, pollinator friendly, butterfly host plant, native.
Fothergilla 'Mount Airy' – deer resistant, shade/part sun loving, beautiful fall color. (pictured below)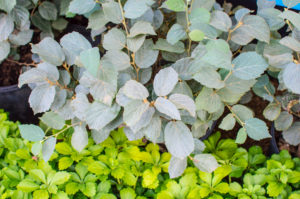 Trees:

Nyssa sylvatica – great clean tree, beautiful red fall color.

The Wildfire variety one of our regularly stocked plants that is quite the crowd pleaser in fall

Ginkgo 'Autumn Gold' – slow growing, long-lived tree, beautiful yellow fall color.

Come pick out yours from our nursery!

Acer japonicum 'Aconitifolium' – looks like stained glass in the fall – so pretty!

This is a big fall performer that we bring into our nursery!

Grasses:

Schizachyrium scoparium 'The Blues' – glows in the fall when it's a rainy day!
Panicum 'Northwind' – fun plume, vertical element, sort-of yellow in fall…
Sesleria autumnalis – fun plume, low growing.
More Ideas!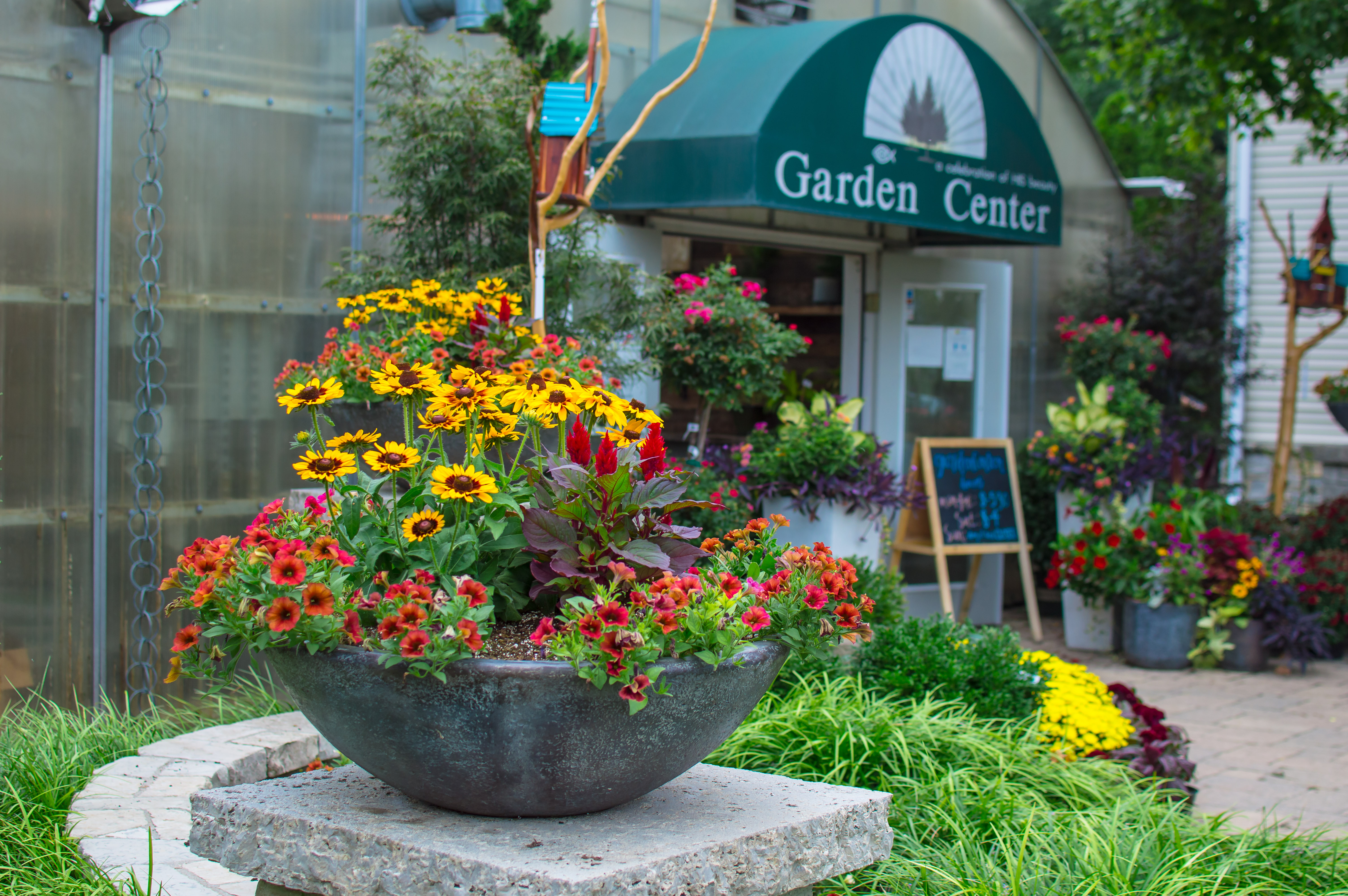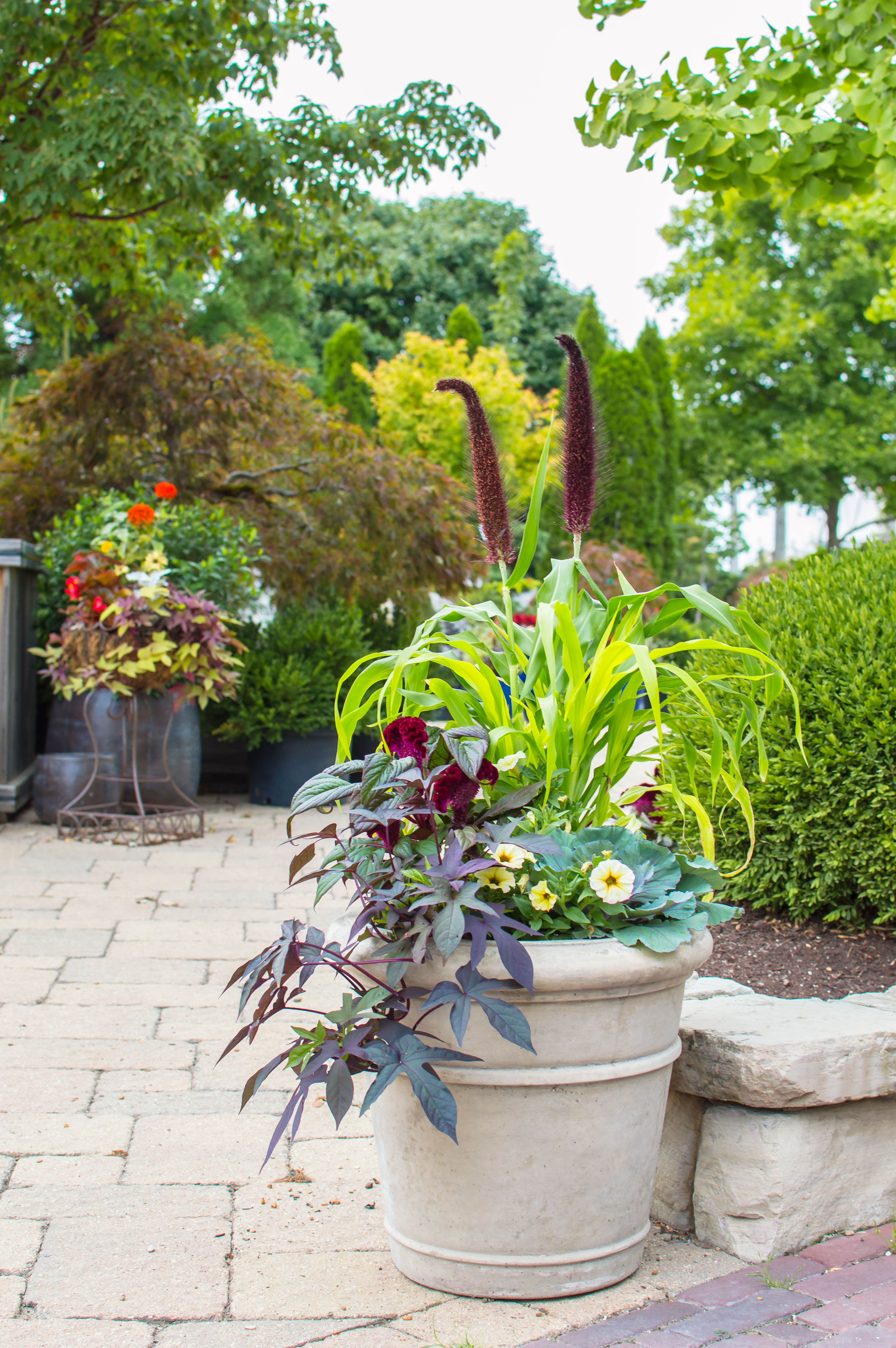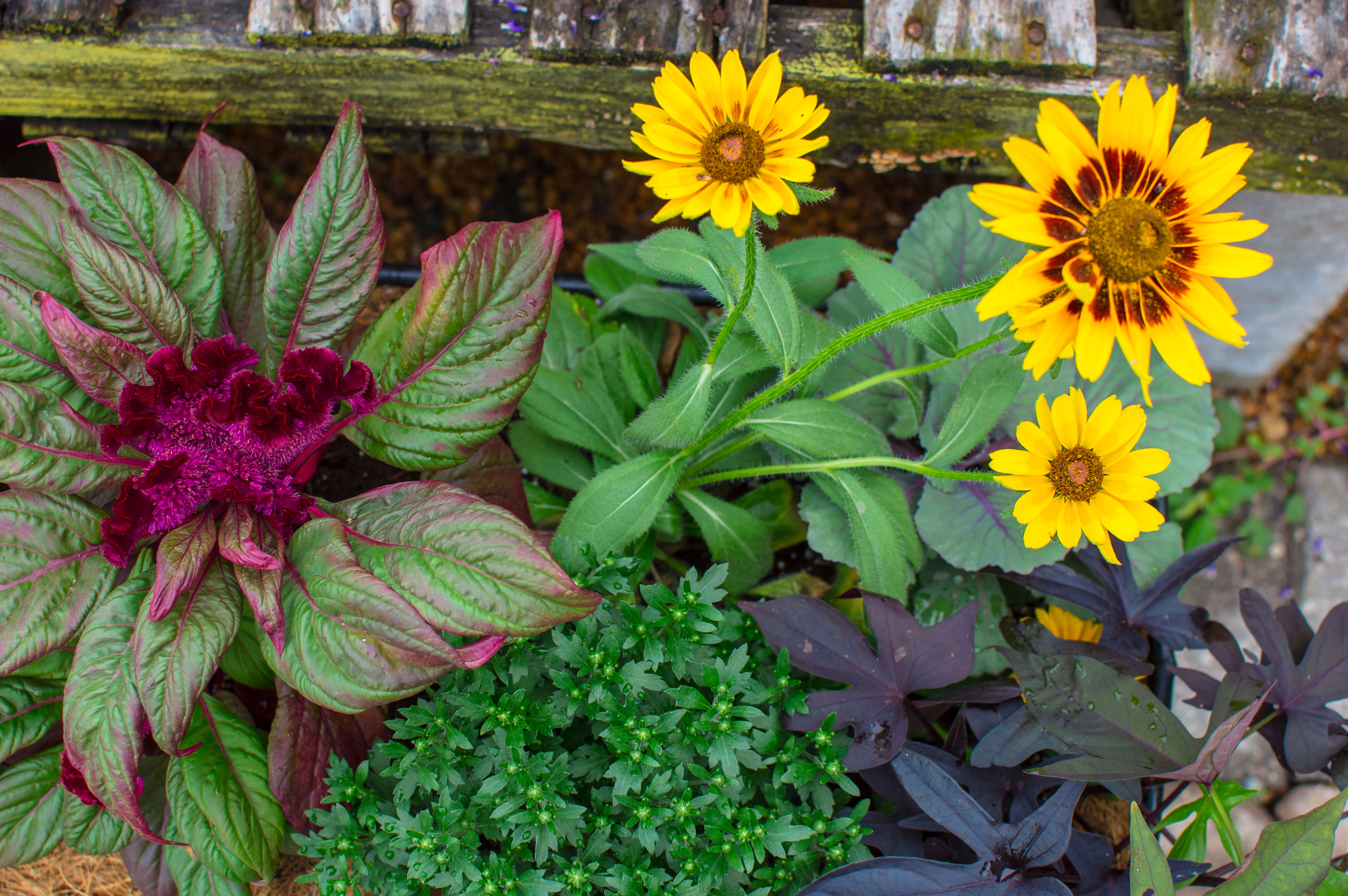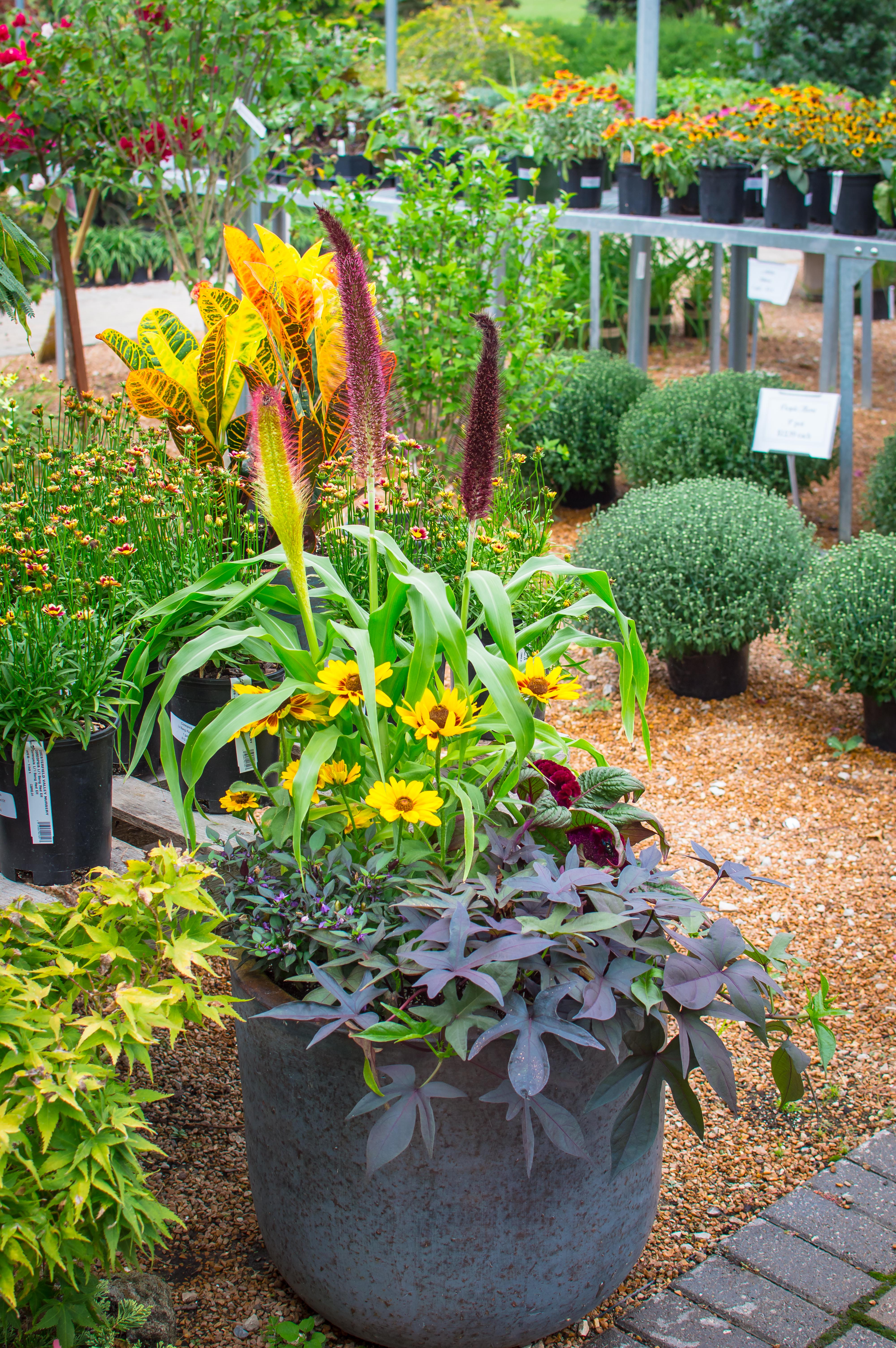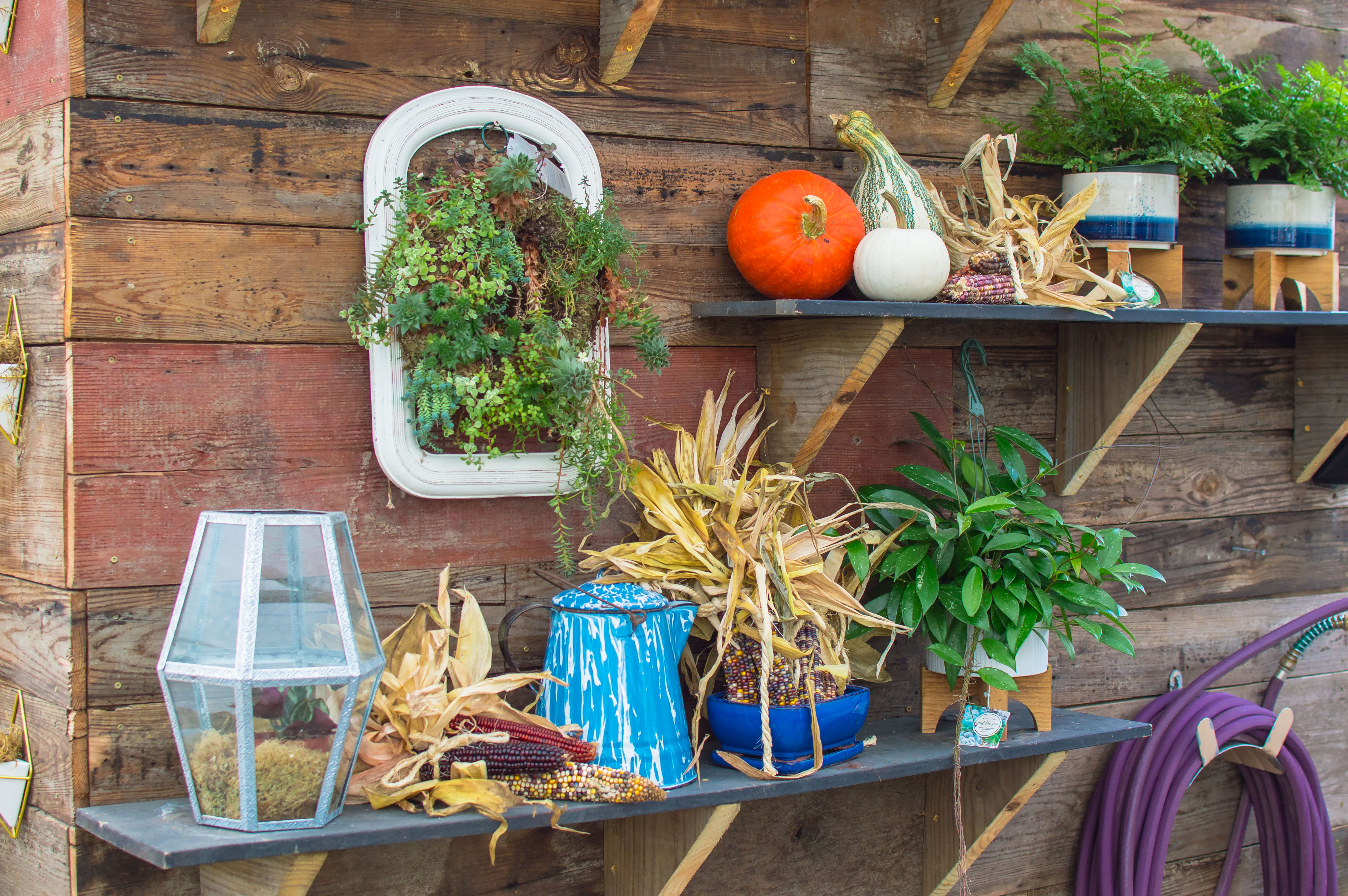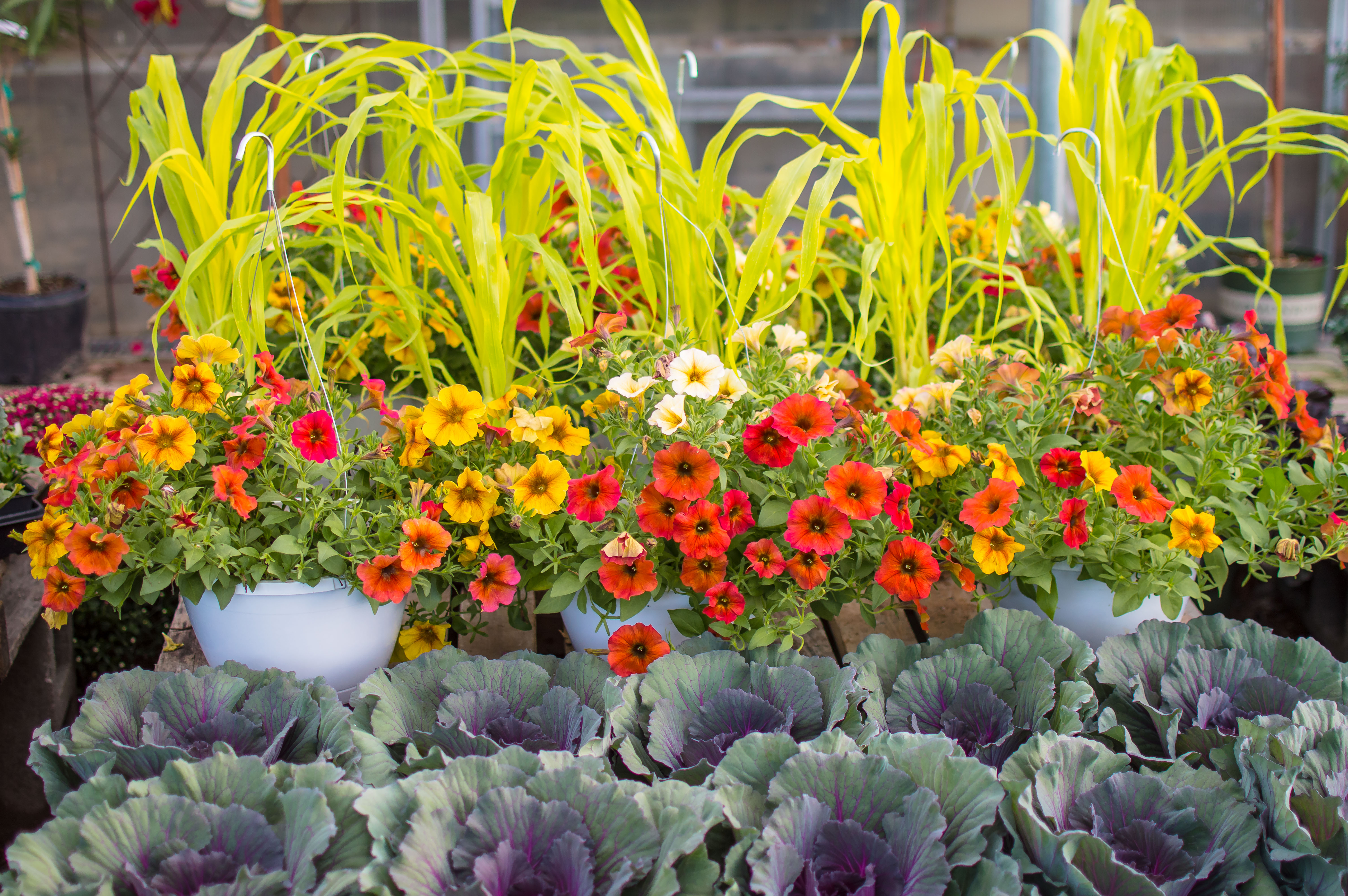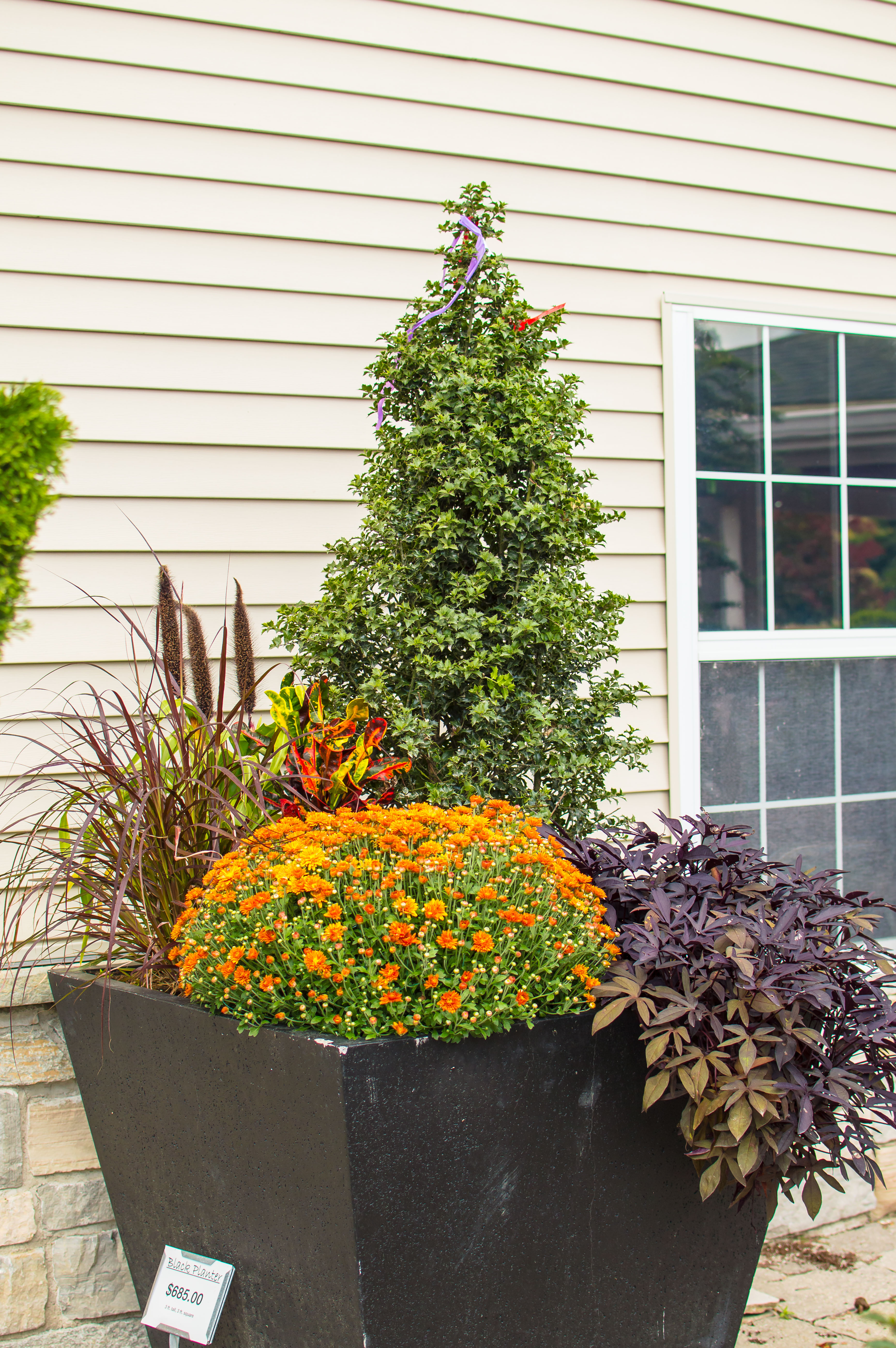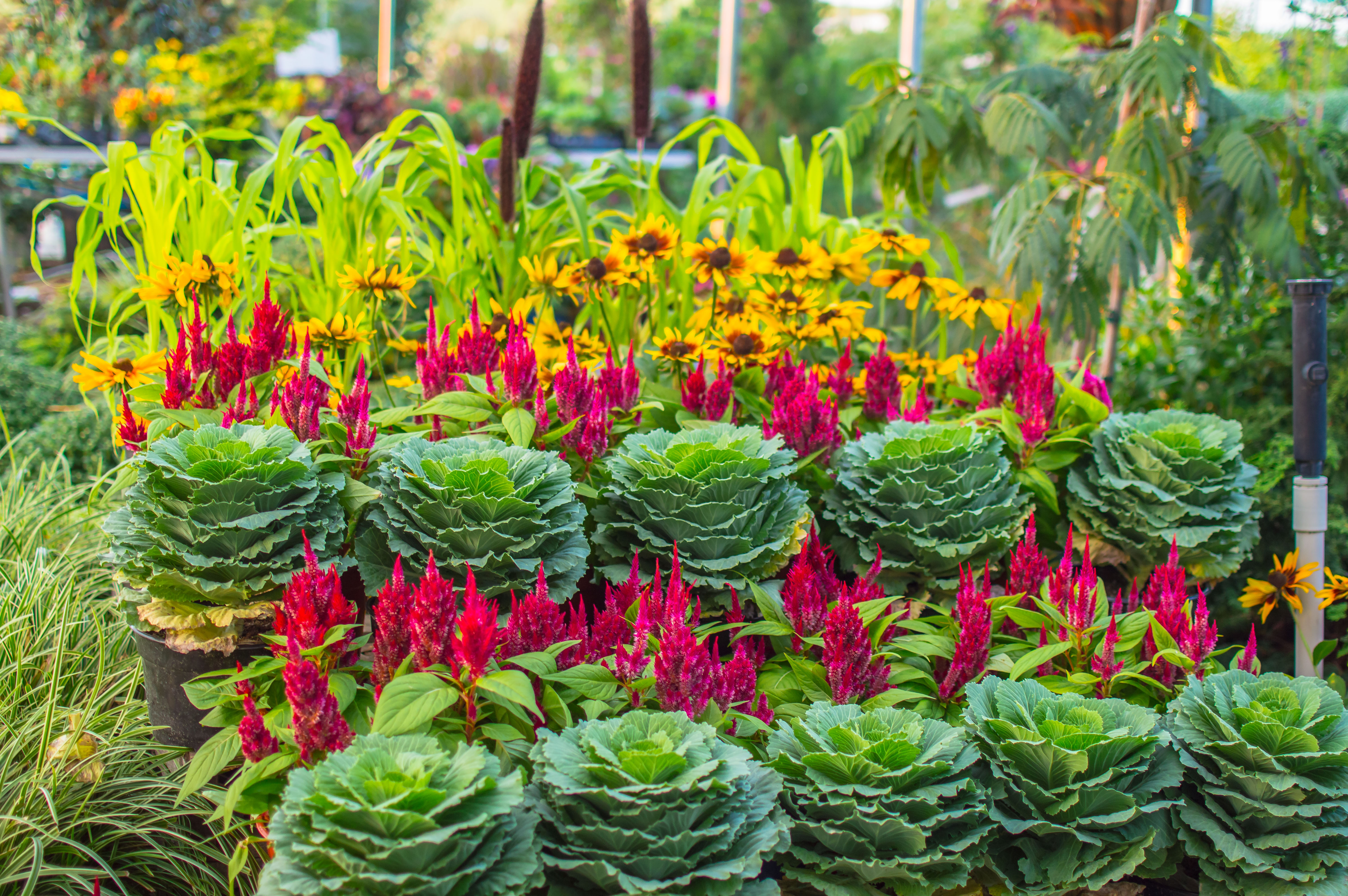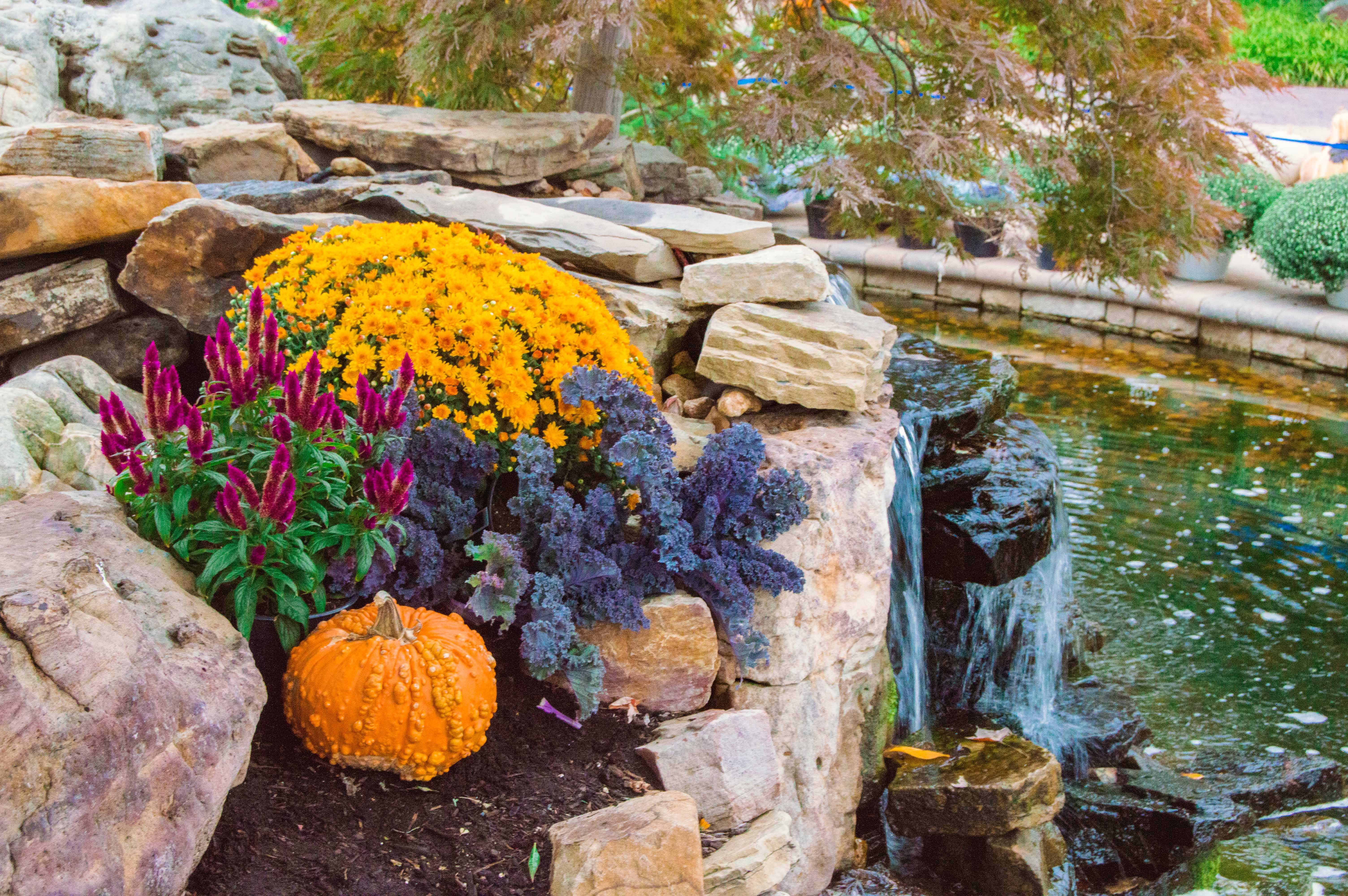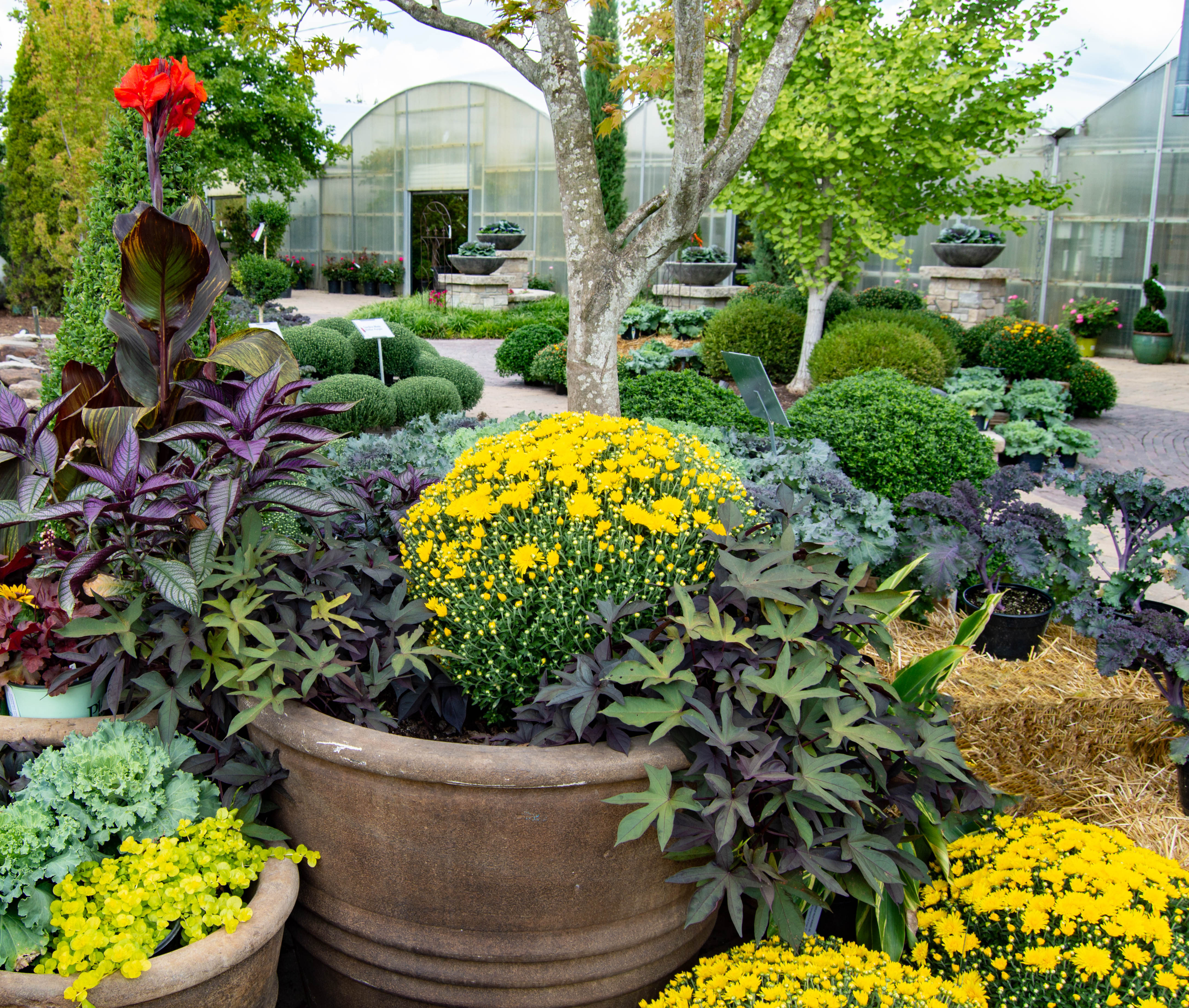 DSC_0057_GardenCenterPotsFlowers
DSC_0052_GardenCenterPotsFlowers
DSC_0049_GardenCenterPotsFlowers
DSC_0045_GardenCenterFall1
DSC_0045_GardenCenterFall
DSC_0036_GardenCenterFall
DSC_0038_GardenCenterFall
---
---
While supplies last, check out our fall combo packages!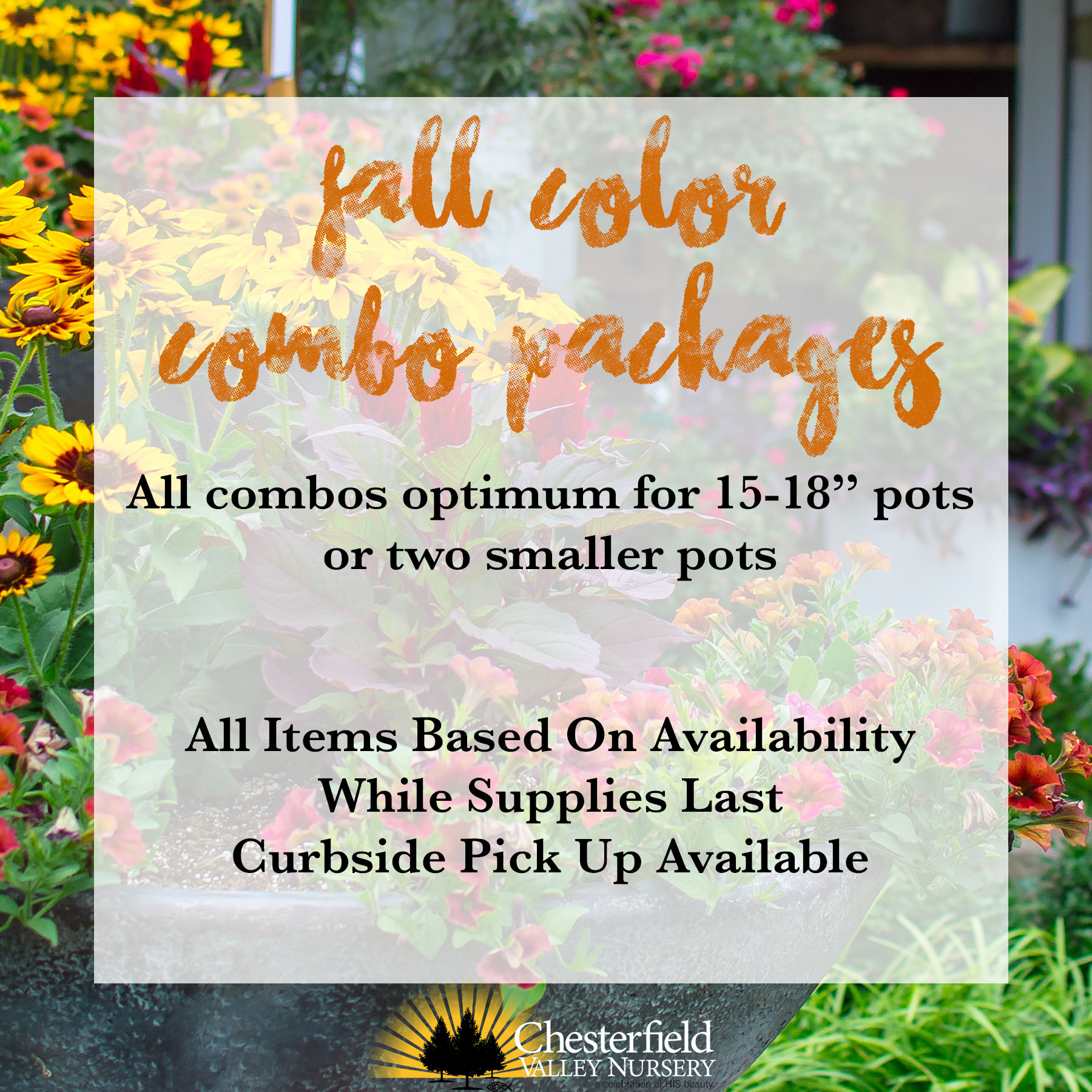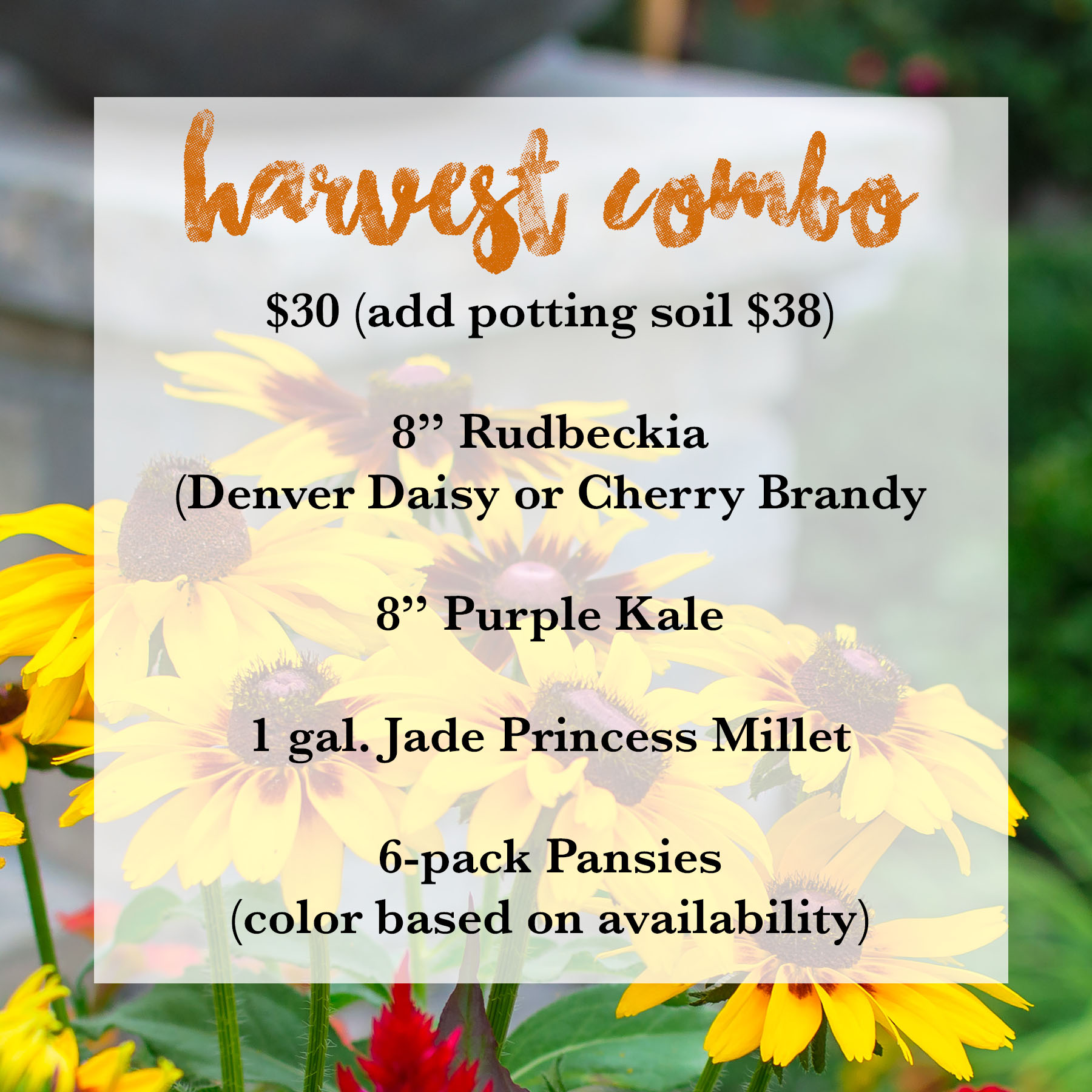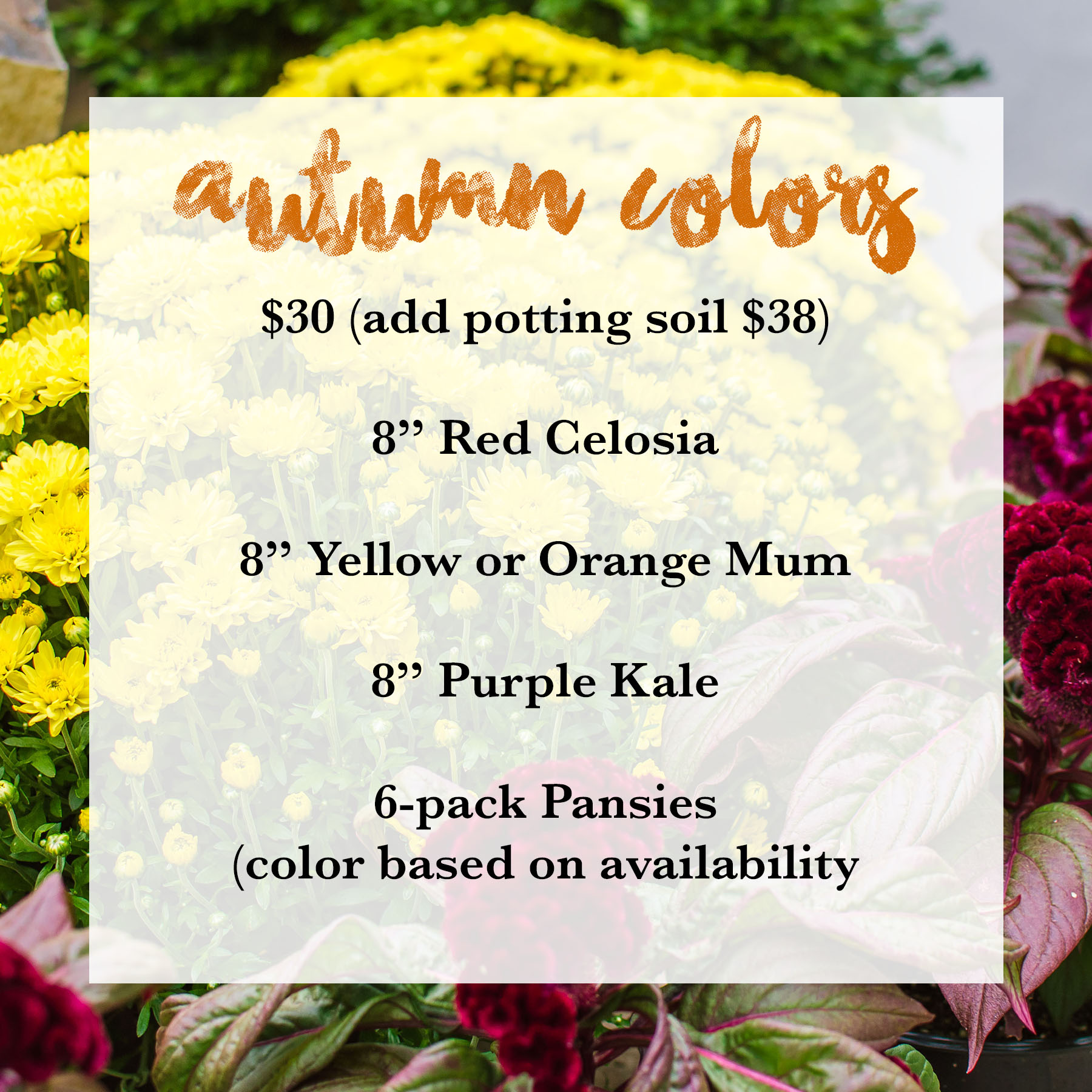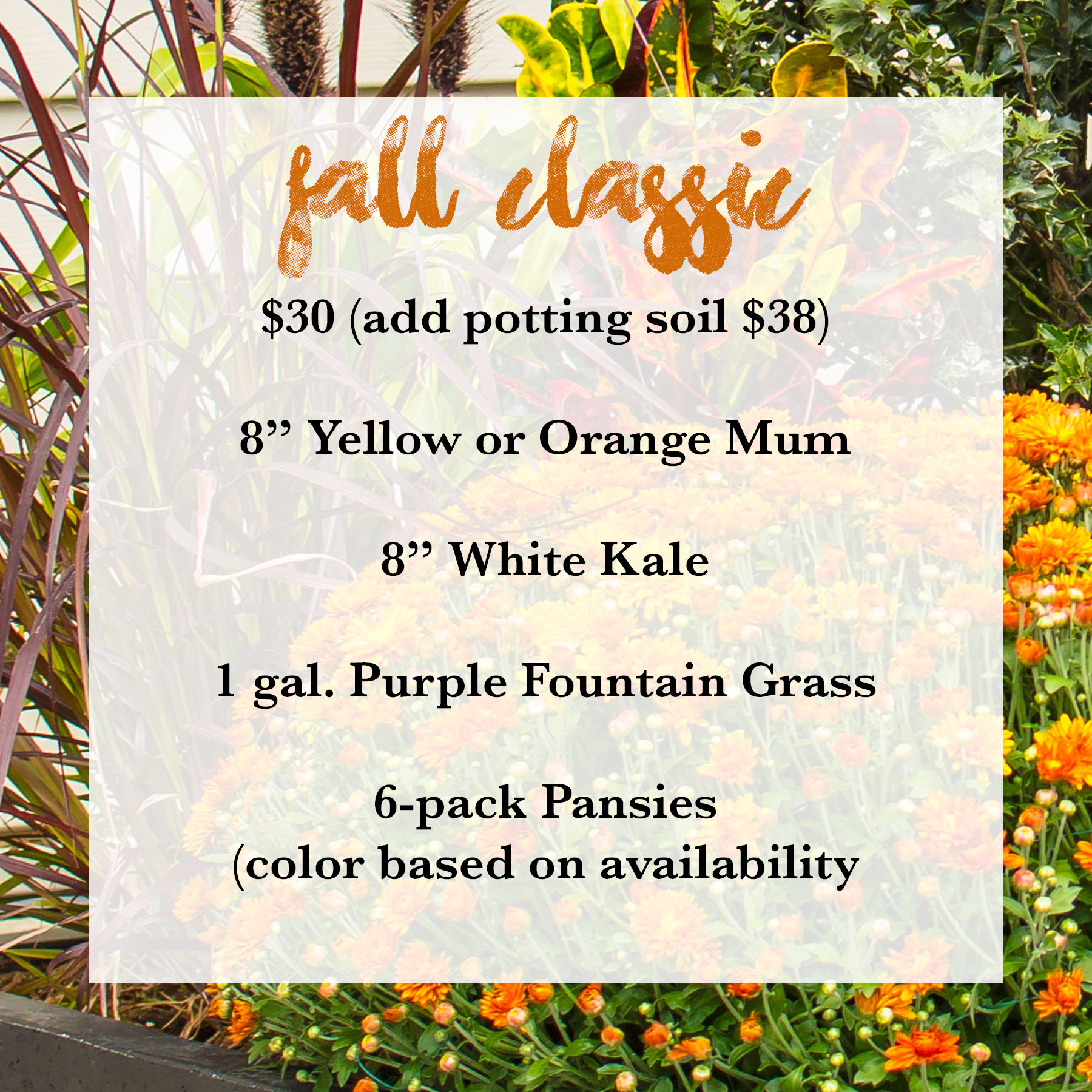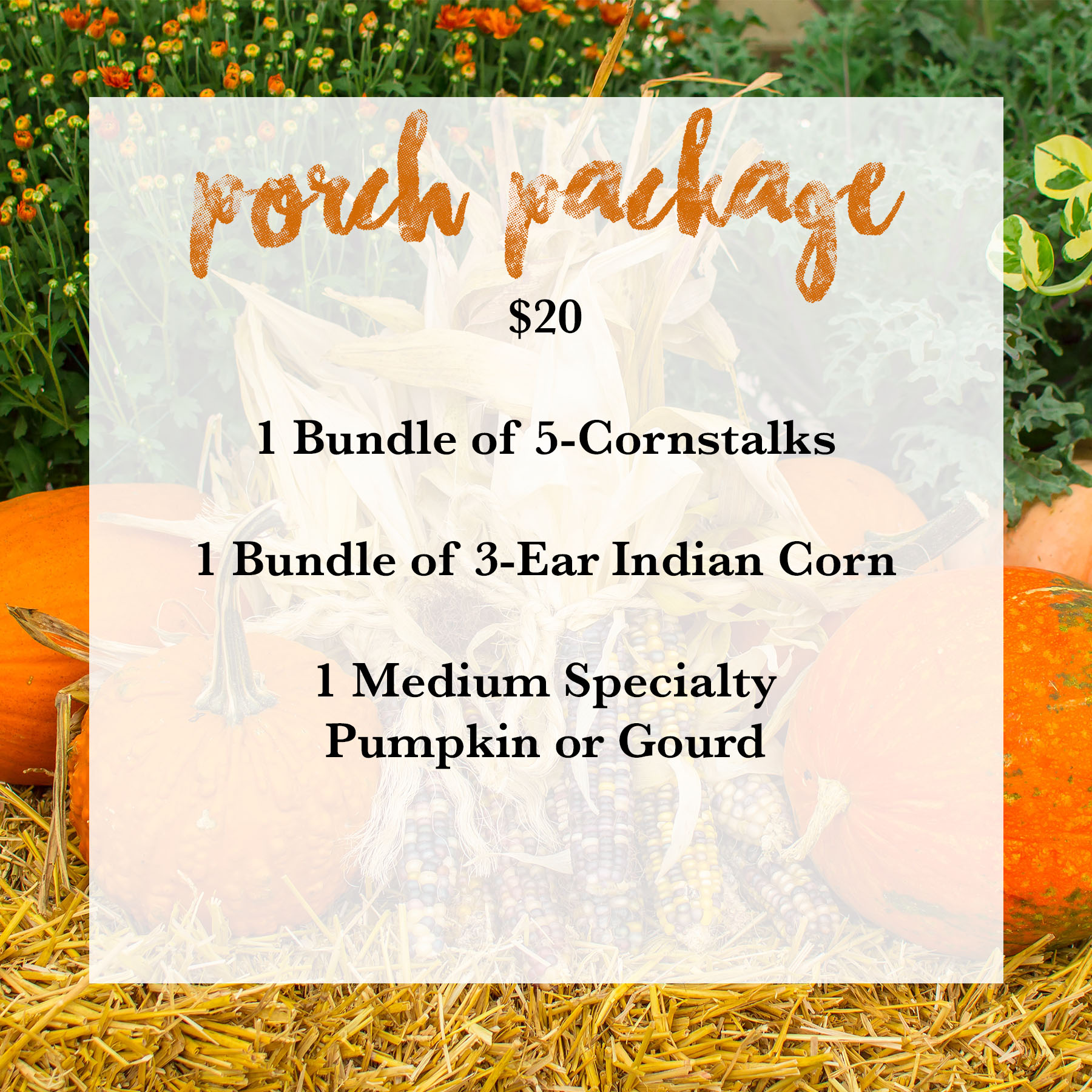 FallComboPackage2020TitleCard_Square
FallComboPackage2020Harvest_Square
FallComboPackage2020AutumnColors_Square
FallComboPackage2020FallClassic_Square
FallComboPackage2020Porch_Square