After the long heat of the summer, cool fall temperatures have finally started leveling out. The time to plant perennials is still upon us, and the time to transplant or divide your favorite perennial has begun. 
For planting perennials, the window starts to close towards the end of October. If you're still wanting to add perennial color to your garden or landscape, there are a few resources. We recommend taking a look at the National Weather Service's forecast for the end of October. CVN suggests referencing the farmer's almanac to determine the time frame for the first frost. When it comes to planting and transplanting, our designers want to make sure that perennials have time to establish some roots before winter and freezing temperatures commence.  
When to Plant
Our nursery and garden center suggests end of September to beginning of October for fall transplanting. According to University of Missouri's Division of Plant Sciences, when it comes to transplanting perennials, "plants need about six to eight weeks after rejuvenation to reestablish themselves before cold weather arrives". A number of perennials need to be cut back before getting transplanted to other areas. Since the root systems are being disturbed/cut, cutting back the foliage provided a relief to the roots so it does not have to provide as much water and nutrients to a large amount of foliage and stems. Not cutting back the plant can result in over-stressing the root system and potential death of the plant. This is because the roots cannot sustain so many leaves and/or blooms. Many plants are still fully leafed out and/or in bloom, so we suggest waiting until the plant starts going dormant so you can get the full growth season out of the plant.  
Transplanting
There are many reasons to transplant perennials. Sometimes, a plant was installed earlier in the year and the area has proven to be too sunny or too shady for the plant, resulting in lack-luster results. Another common "transplanting" practice is diving of perennials such as butterfly weed (asclepias), hostas, Shasta daisies (leucanthemum), cone flowers (echinacea), yarrow (achillea), perennial asters, and astilbe. Dividing perennials can be done to lighten the density of a planting area, hence preventing it from becoming too overgrown. Conversely, this gives you "free" plants to increase the size of the planting area. This can also provide plants for other areas of the yard.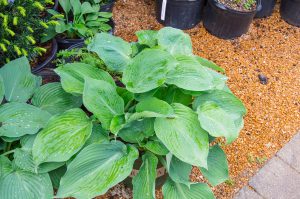 Planting Environment
To provide the best environment for replanting perennials, Missouri Botanical Gardens suggests that you "enrich the soil with peat moss or compost before replanting". One of the most important things a plant needs is proper drainage and soil composition. The greater St. Louis area often has pretty unhealthy soil from either being nutrient deficient and/or heavy clay content. This does not allow for water to drain easily. To ensure the soil is not too hard around the root system, there are a number of things you can do. One is tilling the soil and introducing peat moss or compost to the area. This will greatly benefit the plant. This practice can result in a better, fuller look when the plant gets new top growth after being cut back. Benefits come again in the spring when the plant re-emerges.  
Another environmental benefit for not only new planed perennials and transplanted perennials, but ALL your plants, is mulch. Leaving just soil around your plants increases the risk of a drier climate for your plants. This is ok for drought-resistant plants. However, usually a lot of plants need more moisture in the soil. Mulch helps retain the soil's moistures below as well as providing another layer of protection to the plant's root system. MU's Research Extension says that mulch "helps to prevent alternate freezing and thawing of the soil during late fall and early spring".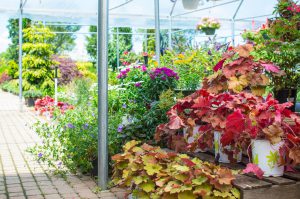 Need Assistance or Inspiration?
Our Maintenance Department is currently scheduling fall clean ups (including mulch touch ups) for the fall! Bagged potting soil and bulk mulch is also available in our Garden Center for pick up or delivery! 
Wanting to get a perennial garden started? Now is the perfect time to do it! Our Garden Center is fully of fall-blooming perennials as well as grasses to enhance your garden or landscape. Our retail staff can help you pick the best plants for your area whether your planting environment. 
If you would like help in designing your perennial garden, call our Business Office to set up a consultation with a landscape designer for your DIY project or even to plan ahead for spring if you would like our crews to install the plantings for you!