Just because fall is here, doesn't mean you have to stop enjoying your hydrangeas! There are many tasks you can do in the fall, from pruning, to flower cutting, to general clean up. Depending on what kind of hydrangeas you have or wish to have in your garden or landscape determines what you can do with your hydrangeas this fall.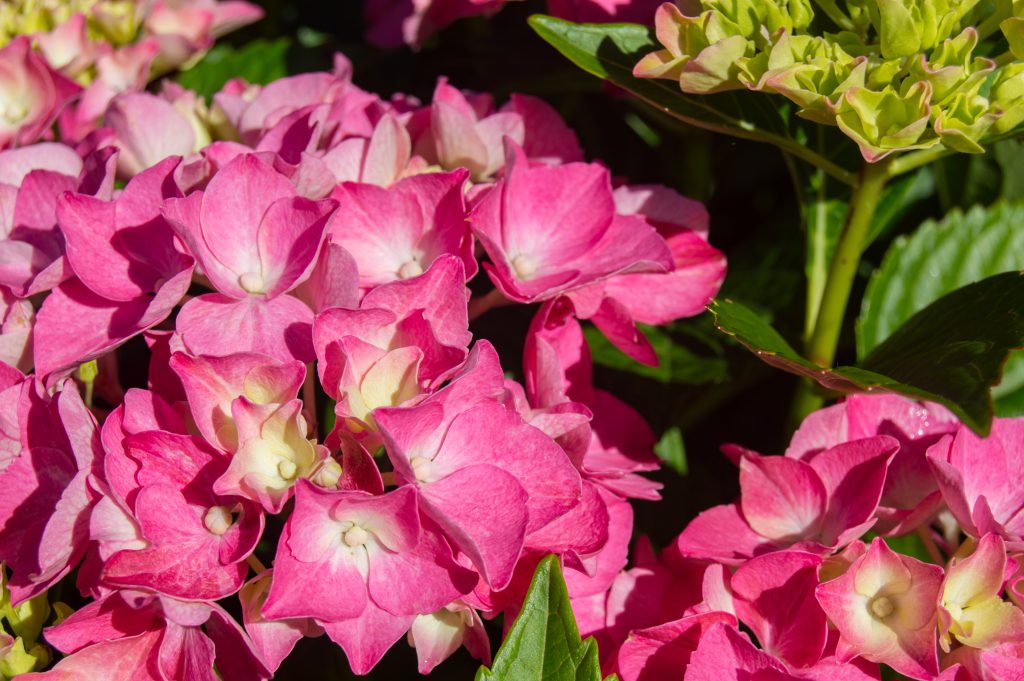 Drying the Blooms
There is a difference between pruning and deadheading. Below we discuss the different needs each hydrangea variety has when it comes to trimming. However, deadheading is what needs to be done to achieve that beautiful, natural home décor that costs you nothing but the time it takes to clip the spent blooms and drying them.  
If the blooms are still active and lush, it is important that you do not cut the blooms at this time. This can stunt growth and cause potential problems during the winter months.  Southern Living talks about this: "While you may be tempted to snip blossoms right at peak color, it is important to allow flowers to begin drying on the plant". You will be able to tell it's time to cut the blooms when the petals become less lush and perky. Waiting until they have dried on the plant will also provide the optimum potential for more fall themed colors.  
When cutting your hydrangeas, the best way to maintain the color is through leaving some of the stem on them and letting them sit in a vase or jar of water first and allowing them to dry out from that point. For the best results, do not put these cuttings in direct sunlight. Unlike other cut flowers, you do not have to replenish the water, simply allow it to evaporate. Only add more water if the flowers have not yet dried.  
There are many different ways to present your dried hydrangea blooms. You can leave them in a vase on the long stems. Another option is to cut back to a couple inches below the bloom and set in a centerpiece or a little crate with other items like pinecones for a small (or large) décor piece for a tabletop arrangement. They can even be worked into wreaths!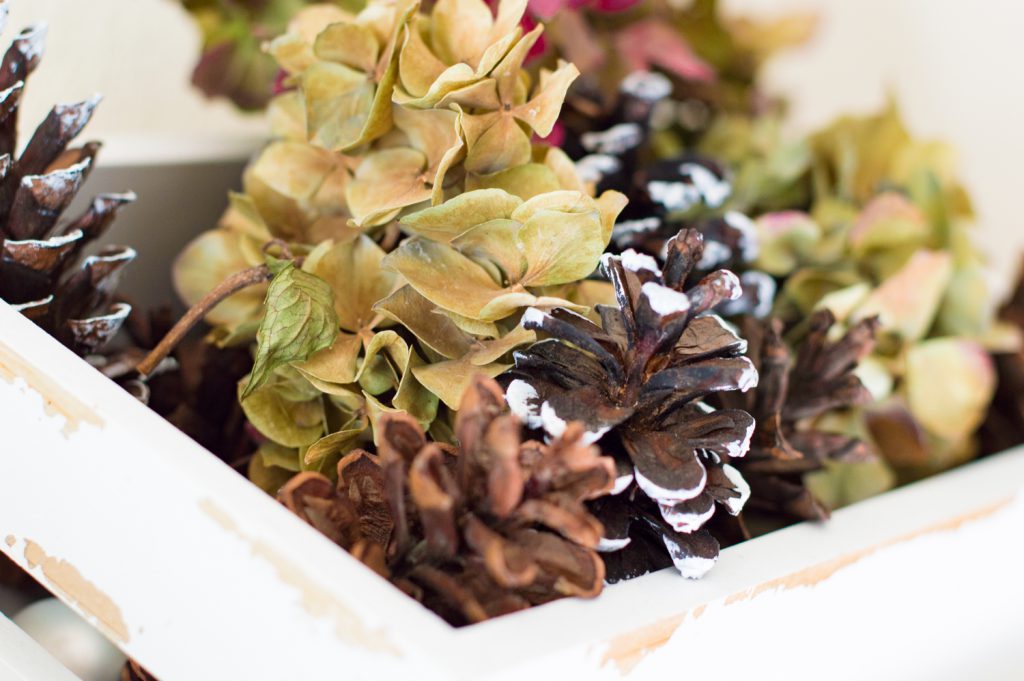 Pruning
As stated above, deadheading your hydrangeas and also dead wooding them can be done any time of year and will actually be to the benefit of your favorite flowering shrubs. Cleaning out spent blooms, stems, and foliage will create better airflow, allow for more light to reach the plant, and keep clusters of dead plant from blocking water from the root system. 
While many types of these flowering shrubs exist, hydrangeas are separated into two categories. There are hydrangeas that bloom on old wood or bloom on new wood. According to Espoma, "if you prune old wooded hydrangeas in the fall, you are cutting off next seasons blooms". We have seen this firsthand. While your hydrangea's foliage will look fantastic, it will not bloom the entire next year and that amazing pop of color will be absent. New wood flowering hydrangeas can be trimmed right after they bloom, typically late summer or very early fall (essentially up until the autumnal equinox depending on how long the weather stays warm). 
Macrophylla & Serrata Hydrangeas
Macrophylla Hydrangeas (also known as bigleaf, mophead or lacecaps) as well as Serrata Hydrangeas do not like to be pruned this late in the season (late September). This is a risk for their growth as well as their sustainability in the winter. According to Missouri Botanical Gardens (or MOBot), pruning late in the fall cause them to "not develop their proper maturity". The blooms for this variety should be pruned in the late summer (August). When the flowers fade, this is when you can prune them. If your blooms have lasted later into the season than normal, just cutting the flowers should not do any damage. However, heavy pruning should be avoided for Macrophylla and Serrata Hydrangeas at this time. 
Varieties of Macrophylla Hydrangeas that our Garden Center carries includes: 
Bloomstruck

Blushing Bride

 

Endless Summer

 

Glowing Embers

 

Cityline Paris

 

Let's Dance Blue Jangles

 

Preziosa

 

Revolution Everlasting

 
Varieties of Serrata Hydrangea we carry are: 
Tiny Tuff Stuff Red

 

Tiny Tuff Stuff Blue/Pink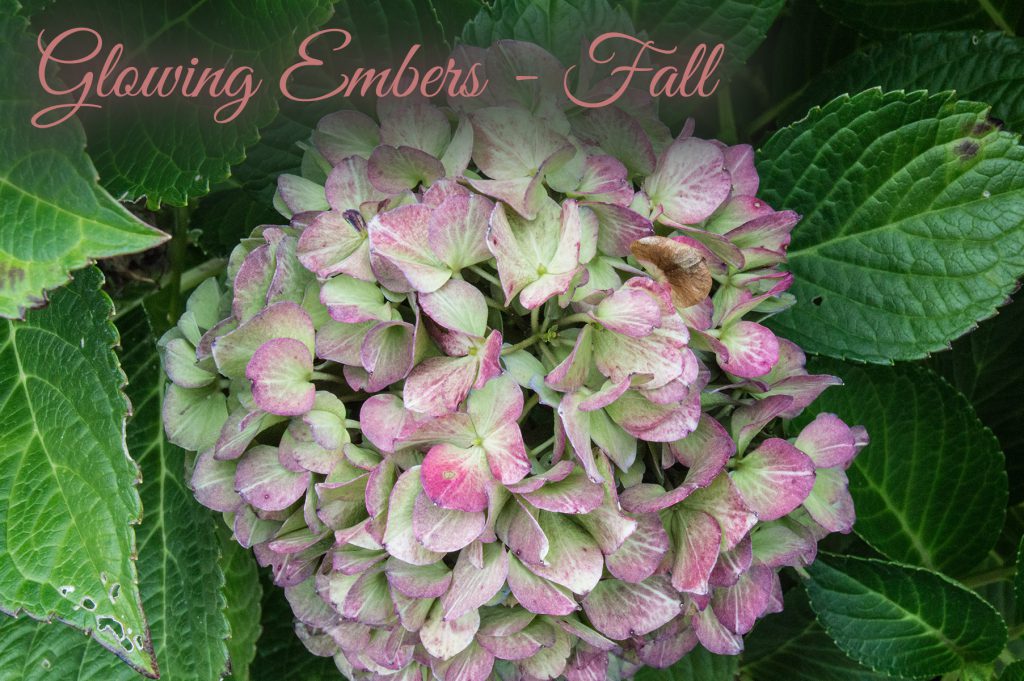 Arborescens Hydrangeas
Another variety of Hydrangeas that can grow in Missouri are the Arborescens Hydrangea (or smooth hydrangea). These are known for the size of their white flowers. This hydrangea, if in its smaller stages (less than 3 feet) can be cut back to the ground in the winter or during the early spring months. If a larger shrub shape is desired (existing 3 or more feet), then the pruning does not need to be done as heavily. However, MOBot does suggest that some of the stems be taken back all the way to the ground.  
The following are Arborescens Hydrangeas that bring in: 
Annabelle

 

Incrediball

 

Invincibelle

 

Invincibelle Spirit

 

Invincibelle Wee White

 
Panicle Hydrangeas
Fall is one of the times to shine for Panicle Hydrangeas! During the summer months, panicles sports brilliant white to very pale pink blooms. However, in the fall, they darken to mauve and pink. Check out our excerpt below on the color changing habits of Panicle hydrangeas! For their care regimen, these hydrangeas can be pruned in the late winter or early spring months. However, it is very respondent to dead-heading. Pruning these include thinning out the growth from the previous season and removing any dead branches. Panicles are new wood blooming hydrangeas. Although the blooms for this plant will typically dry out in the fall, they still retain lovely pink coloration for extended seasonal color. 
Varieties of Panicle Hydrangeas that we plant include:  
Bobo Dwarf

 

Candy Apple

 

Jane Little Lime

 

Limelight

 (Also available in tree form)

 

Little Lamb

 

Little Quick Fire

 

Phantom

 

Pinky Winky

 (Also available in tree form)

 

Quick Fire (Also 

available in tree form)

 

Strawberry Sunday

 

Vanilla Strawberry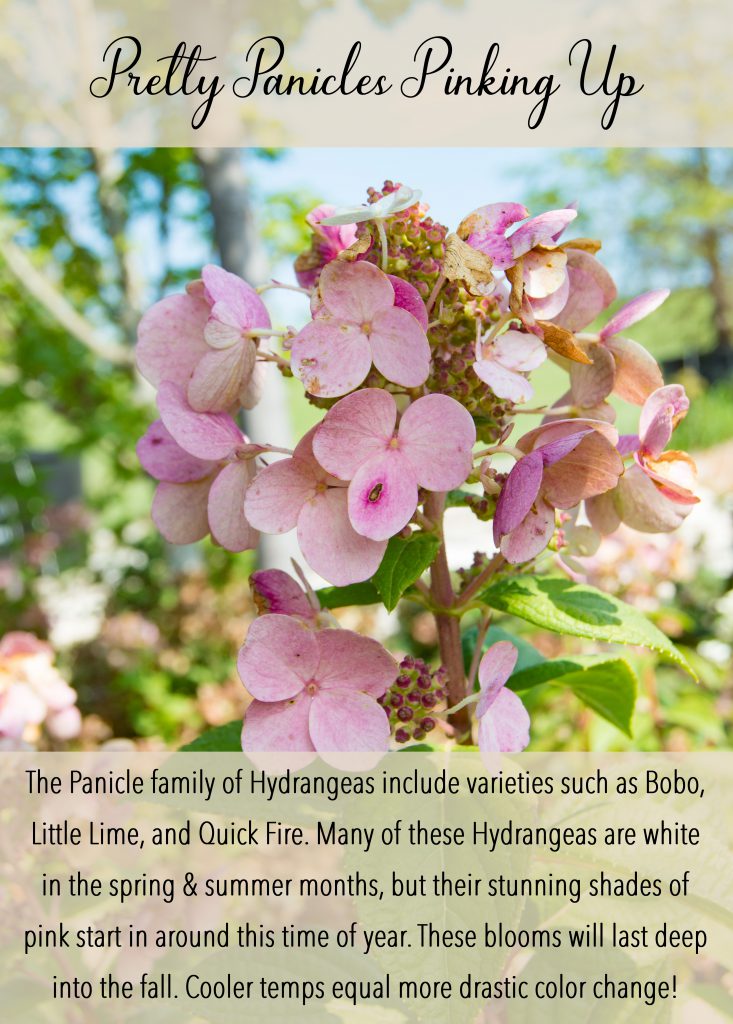 Quercifolia Hydrangeas
Another popular variety includes Quercifolia Hydrangeas (also known as oakleaf). This variety is also known for its fall color in the foliage. If you have oakleaf hydrangeas in your yard, they are probably starting to turn right now like ours at the nursery! Its pruning season is in the early spring. Oakleafs are also an old wood bloomer.  
Types of Quercifolia Hydrangeas we have are: 
Alice

 

Munchkin Dwarf

 

Pee Wee Dwarf

 

Ruby Slippers Dwarf

 

Snowflake

 

Snowqueen

Sykes Dwarf

 
​
Anomala Hydrangea
Finally, there is the Anomala Hydrangea, which are also known as climbing hydrangeas. The blossoms for this hydrangea are produced on old wood. The flowers are a lacy white. Fall color is seen in the dried flower in the fall, which are a reddish-brown. For the best results, this hydrangea should be planted in a more protected space. The plants need to be dormant in order to be pruned, which is in late winter or very early spring.  
The hardiest variety for St. Louis, and subsequently the only Anomala Hydrangea we carry is: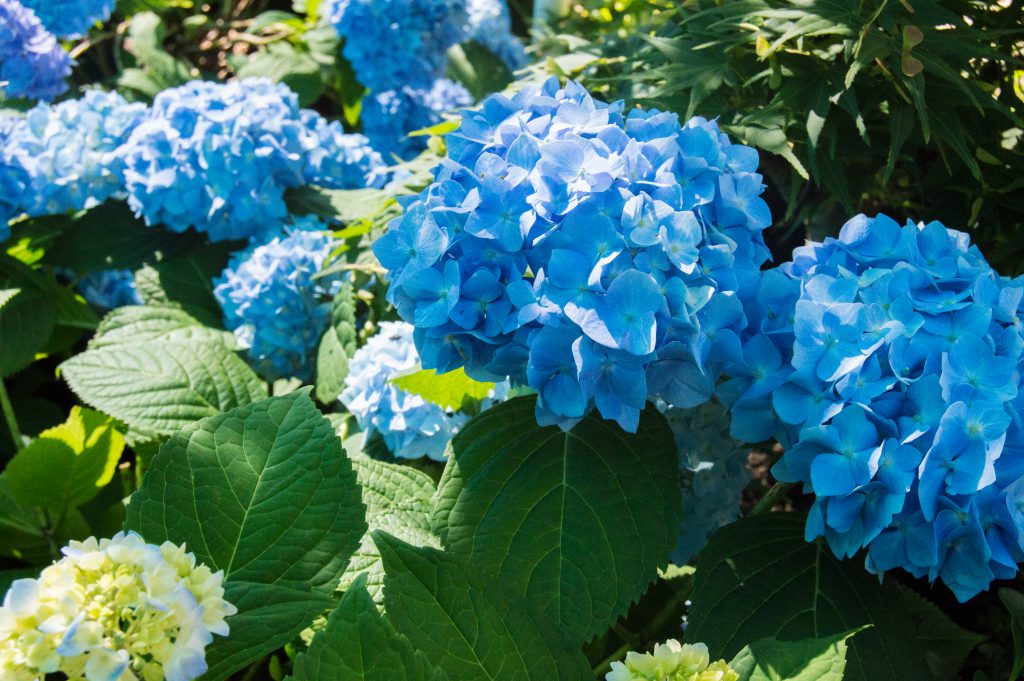 Want to Know More?
Hydrangeas, no matter what variety, are such a fantastic plant! Whether you're creating a hedge, a statement plant, or a grouping, they are the perfect pop of color! Most of the categories of these flowering shrubs have a dwarf variety, making them versatile when it comes to fitting them into a large landscape setting or a small shade garden.  
Stop by our Garden Center to check out the fall color on our hydrangeas and take advantage of the perfect fall weather to plant yours this weekend! 
Need help from a designer for planning your flower garden or landscape featuring hydrangeas? Call the business office today for a consultation and free estimate.  
Need help maintaining your hydrangeas and other plants in your yard, our maintenance team can cultivate a custom lawn & shrub care program for your landscape.